Yeah, BLECH! That's all you can say about the
2-0 'effort'
the Penguins pulled off. Full credit to the Detroit Red Wings for an amazing defensive effort. I'm just glad I didn't watch it.
Michael the Hockey Fanatic
pointed out this 2nd year card of Sidney Crosby's and the rather strange choice of photo.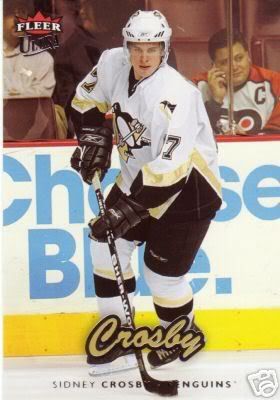 Yes, we have Sidney The Great doing his thing and then we get some Flyers fan dweeb talkin on the cell phone...probably ordering another pizza to stuff his face with. How about the 'after' shot as he's crying after Crosby pots another goal against his stupid club? That would make a great card!
(that actually may be a woman. With those Philadelphia people, it's sometimes hard to tell)