I wanted to get this post done so much earlier than this, but I had to take my car back to the dealership. It turns out that driving more than 150 miles in poorly maintained snow covered roads can shove anti-skid into the wheel wells and up into the routers and the brakes, which then causes a horrifying shrieking sound as they all rub together as the car is driven. No matter anymore; it's been fixed, and this morning in the daylight I discovered that the rock that hit my car only left a chip in my windshield that is so small that it can't be seen from the outside of the car. :)





I thought of all of you throughout the entire day yesterday. I wanted to make sure I got as many pictures as I could for you guys. Most of the pictures were taken during the very beginning of the game, or when there was a break in play. I didn't take pictures during the game because I was too busy watching it. I was trying to absorb every moment so I could share it with you. Hopefully, my story will give you the closest idea of what it was like to be there, especially if you weren't able to go. Anyone else who went is more than welcome to share your experience with us! All the following images and silent videos (my digital camera doesn't record sound) were shot by me. Click the pictures to enlarge them. I hope you enjoy:




My husband, his best friend, and I ventured up to Buffalo bright and early (7:00am). We got lost only briefly on the way there. My husband's friend called into XM Radio while we were driving, and just as he was put on the air live, his cell phone lost service. Then when we were about 60 miles away from our destination when we saw this: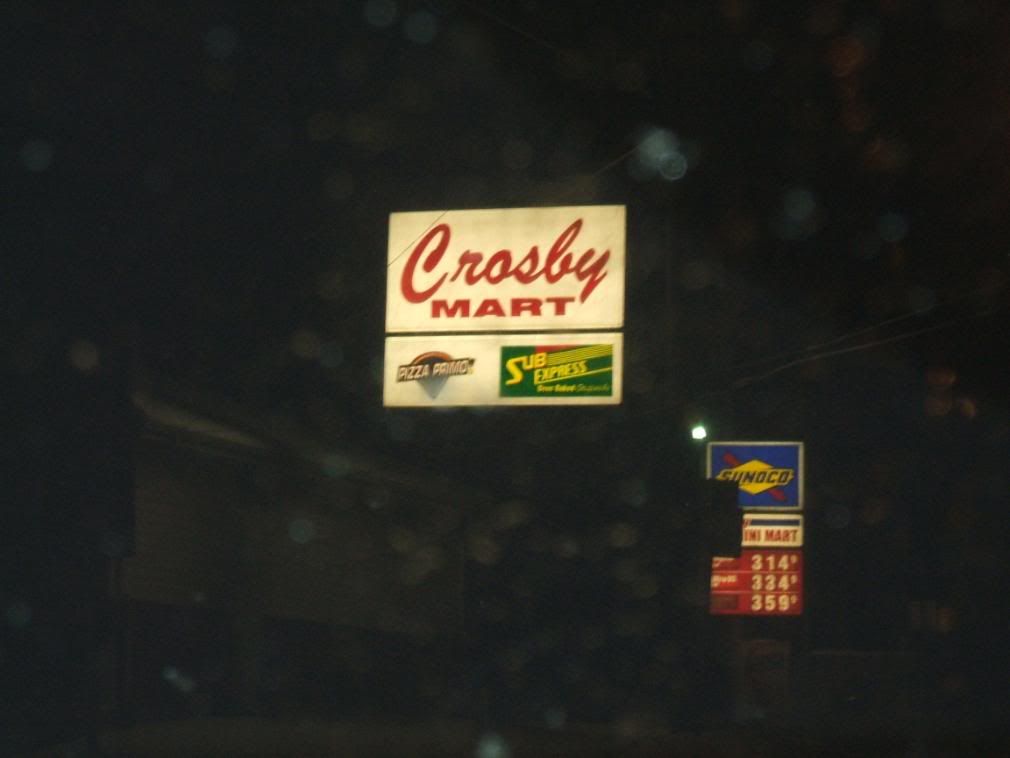 I took this shot on the way home. I just couldn't resist! I thought you would appreciate the humor as much as I did. :)


We laughed and figured it was a good omen. :) As we approached the Ralph Wilson Stadium, I panicked about the traffic ahead and decided to park in someone's yard. They only charged us $15 dollars ($10 less than the stadium was charging), they offered us use of their indoor bathroom, and it wasn't the sink hole mud mess that the stadium parking turned out to be. As we walked the two blocks to the RWS, we could already hear the crowd as well as the rumble of a helicopter and the buzz of a small airplane circling above. Honestly, it wasn't as cold as it may have looked at that point. I wore long underwear, two shirts, and this wool throwback Penguins sweater (isn't it awesome?), jeans, thigh-high wool socks, these Yeti boots (say what you want about them - they were TOASTY), a hat (it matches my sweater and looks very similar to the one Sid is wearing here, but mine has extra stripes on it and is a few years old now), these gloves (thanks to Jes!), a wool scarf, and Pens logo earrings. Keep in mind, all this Pens stuff was only what I was wearing. Both my husband and his friend were just as decked out in Pens gear as I was (minus the earrings, haha). We approached the RWS and quickly realized that we were in the VAST minority. We were just a few yards from the gate when I saw a female Sabres fan pointing at me, and as we got closer, this happened: She said, "On the count of 3! 1-2-3!" and she and several friends actually booed us. Seriously. I couldn't believe it either. I shouted back, "Who just got the shutout, baby?" None of them offered a comeback. ;)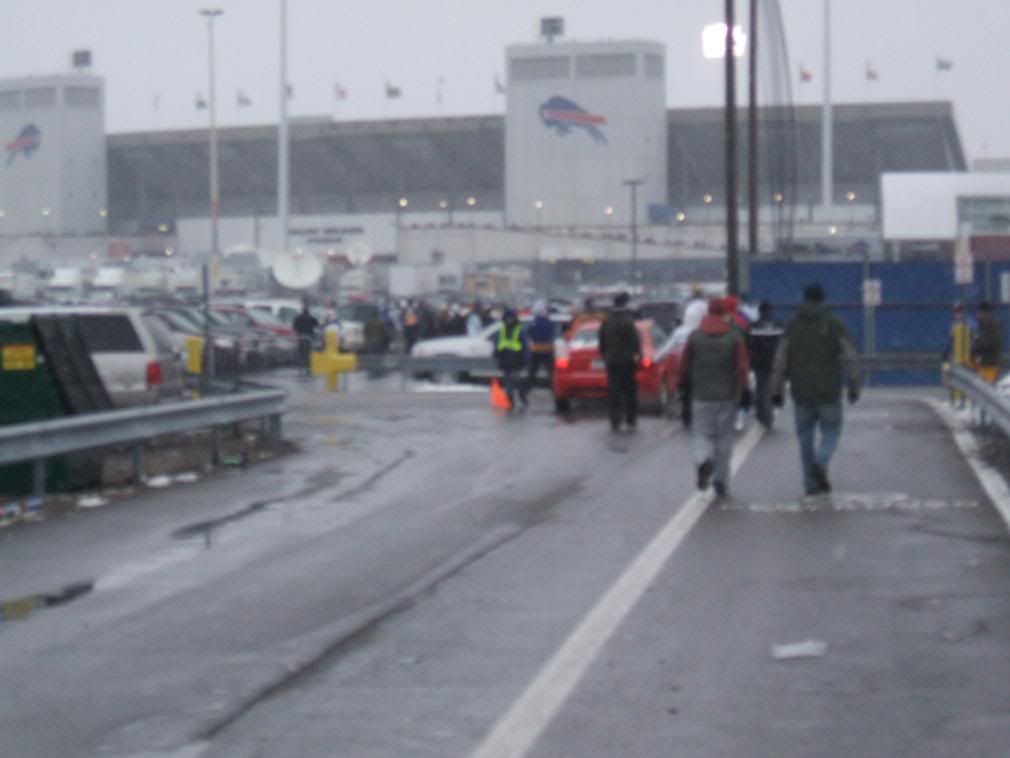 After we were all frisked (I actually had to leave my husband and go to "the female frisk line" - thank GOD we didn't lose each other in the crowd), we made our way into the stadium amid shouts of "

[Penguins Player - usually Crosby]

Sucks!" That's fine. But then we started hearing stuff like "You suck!" and other much more vulgar things being said to us - things that I won't relate here, simply because I know that some of our readers are minors, and I don't want to make anyone's parents mad. I suppose that's what you get at an away game, but, right hand to God, I've NEVER heard anyone harassing opposing teams' fans at the Mellon Arena so harshly - not like that. I'm sure it's happened, though, I guess.


Anyways, we finally found our seats in section 223 directly above the tunnel where the players entered and exited the field and settled at about 12:30pm. We sat on one blanket and covered up with another. We were seated in section 15, which seemed to be the line where Sabres fans ended and Penguins fans began. (All throughout the game we battled back and forth with chants of "Let's Go Pens!" going up against chants of "Let's Go Buffalo!") And I have to tell you that it was a pleasant change of pace when we started chatting with 4 Sabres fans in front of us and 2 seated next to us. Those six fans were actually nice to us, so much so that they were a pleasure to be around. One of the guys in front of us even bought my husband an $8.50 16-ounce beer!

On our side of the stadium, there was a smaller ice rink beside the main ice. Some little kids were dressed up in little Penguins and little Sabres jerseys playing pond hockey in front of 71,217 people. I imagine that would be surreal. Then it was FINALLY game time. As I said before, we sat directly behind the tunnel. When those torches went off, I almost passed out because they startled me so much. I was not expecting them at all!



Then we stood for the national anthems. The USA and Canadian flags were ENORMOUS. It took an entire team of military members to unroll each of them.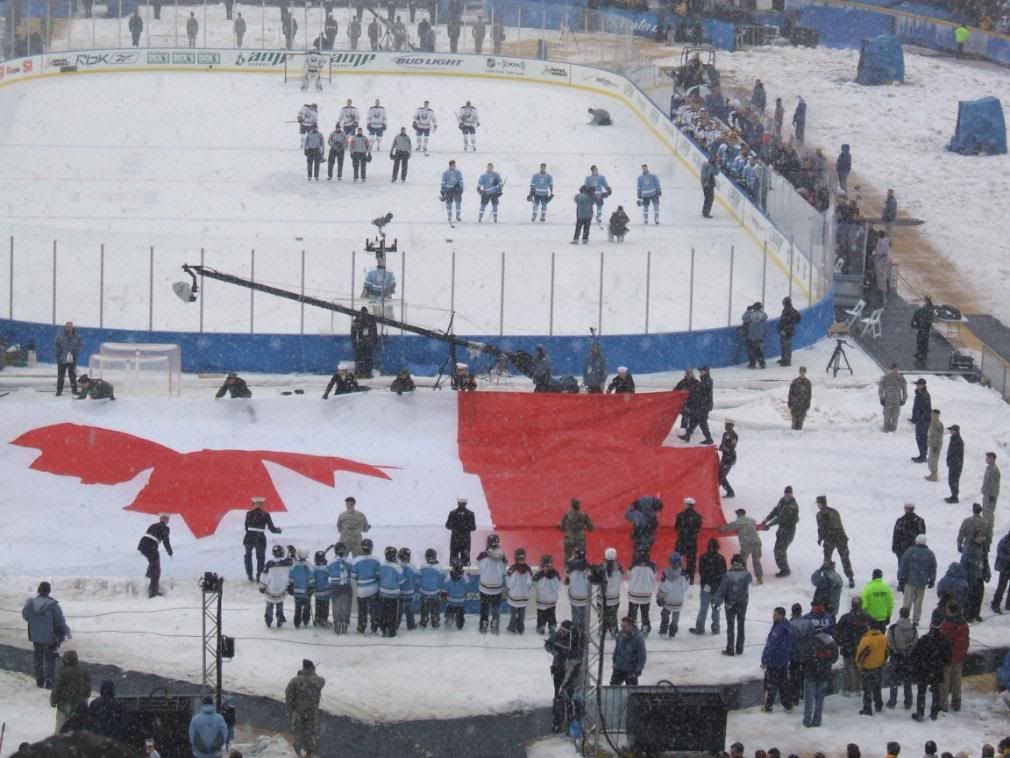 The Canadian anthem was sung first. Being Irish, I was absolutely thrilled that I was going to witness Ronan Tynan - one of the Irish Tenors - singing our national anthem. BUT WAIT! He didn't sing our anthem! For some reason, the NHL decided it would be okay to replace our

national anthem

with a song written by Irving Berlin in the 1930s. It was a huge disappointment.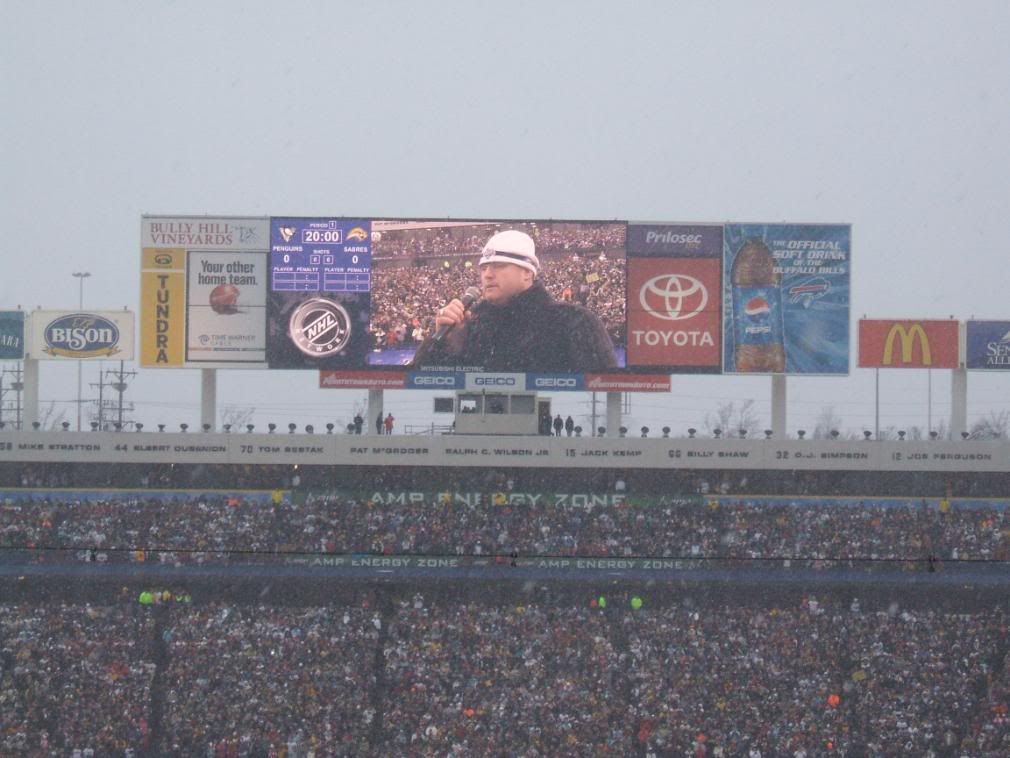 At the end of the song, the Blackhawks flew overhead. It felt like they were so low that if I stood on my tippy toes I could have touched them.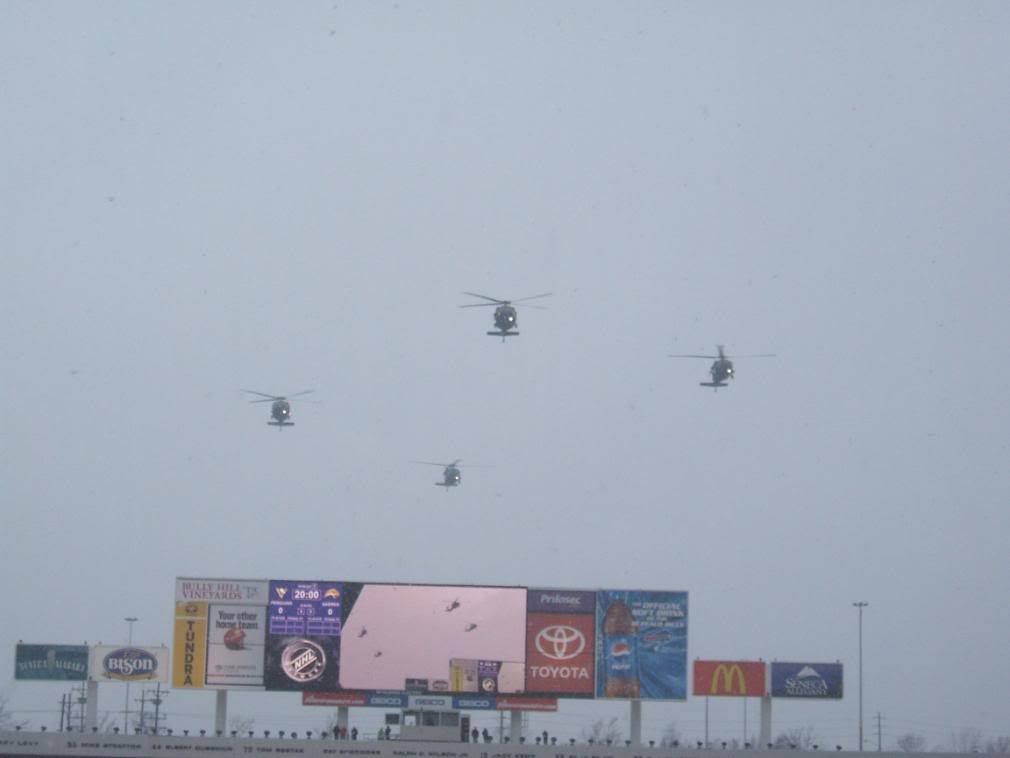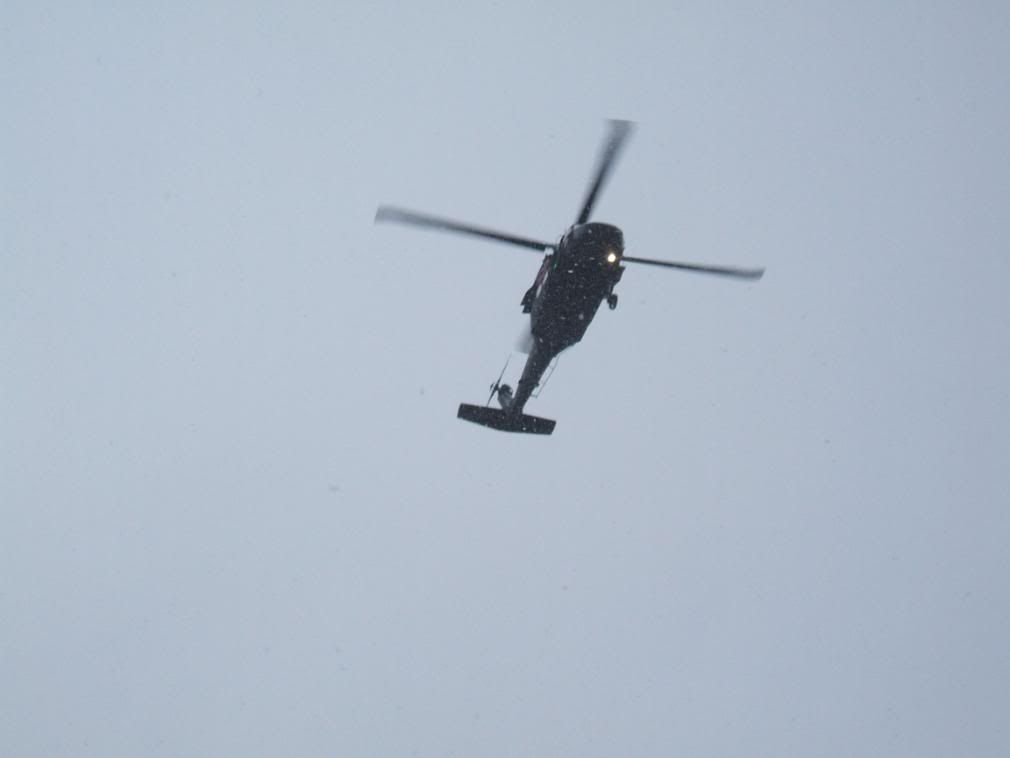 Finally. The puck was dropped. Before anyone even knew what happened, Colby Armstrong scored that all important first goal. The 7 rows of Pens fans in our section went WILD. We were high fiving and screaming like mad people. Midway through the first period, I looked at my husband and said, "I feel a shootout. I just feel it coming." I must be psychic! :P When the Sabres tied it early in the second, he looked at me and said, "You might be right!" The weather really affected how the puck behaved on the ice, as I'm sure you saw when you watched it on TV. It was amazing to me to see the Zambonis on the ice driving right past the players as they stood on the ice near the benches. In this clip, you'll see players just barely getting out of the way of one of the Zambonis, followed by a quick look at how packed the stadium truly was:


It snowed during the first period, then it sleeted during the second period, and then it started

really

snowing during the third period. The blanket we were using to cover our legs got wet as the game went on and began to lose its effectiveness. That sucked because the temperature dropped fairly drastically in the middle of 3rd period. We were soooo cold, but it could have been -10° and we still would have soldiered through it. The issues with my car, the cold, the horrible road conditions, the abuse from some of the Sabres fans - it was all worth it. Watching the game was so crazy. It was hard to believe we were there, even as we watched it all happen in front of our eyes. At our vantage point we could see everything pretty clearly.



After overtime ended and the shootout began, the intensity of the atmosphere tripled. We started shouting "Let's Go Pens!" again, stopping only when the shots were taken. Ales Kotalik scored on the Sabres' first try, but Erik "Mr. Shootout" Christensen did not score on the Pens' first try. One of the Sabres fans beside us said, "Oh, good! We've just won it because if Kotalik can score on Conklin, we'll get all three. He sucks at shootouts!" But then Ty Conklin blocked Tim Connolly, and Kris Letang kept his streak alive and pushed his shootout record to 4 for 4. The third shooter for the Sabres was Maxim Afinogenov. The stadium went absolutely bonkers for him. He buckled under the pressure, though, and didn't find the net behind Conklin. Finally, the Saint was the lone shooter left. He literally carried the game on his stick as he raced toward Ryan Miller. A split second before our small pocket of Pens fans erupted like Mount Vesuvius, I saw Sidney jump and smile like he was a little kid. Then it was chaos. There we were - a handful of Pens fans shouting and high fiving and whistling and celebrating together in a sea of dejected Sabres fans. It was unreal.



In a gesture of appreciation for the fans for coming out and freezing our butts off, the players on both teams raised their sticks at us.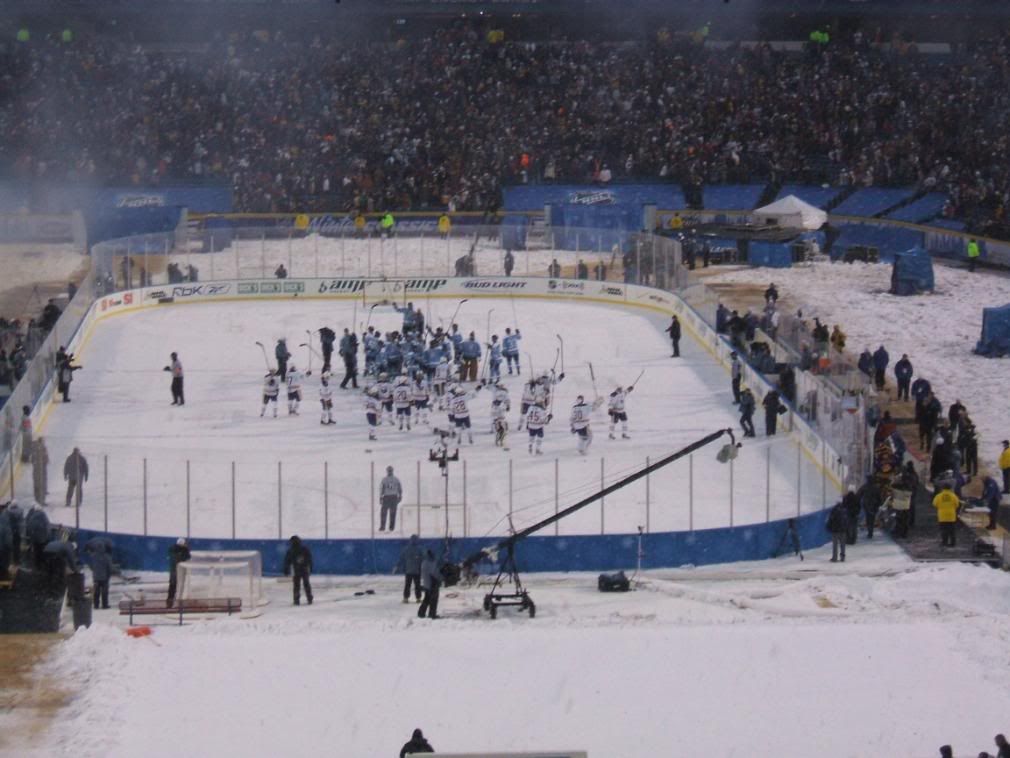 The game was over and the Penguins won!!! If this had been a movie script that someone had written, it wouldn't have been this good. For Sid the Kid to score the game winning shootout goal was as good as it could have possibly gotten, at least for me. This was only the second game I've ever seen in person that has ended in a shootout. The other one I saw was the 01-07-07 loss to Tampa Bay.


We weren't heckled as badly on the way out as we were on the way into the stadium. There were a few Sabres fans saying some things to us, but we just said stuff like "Two in a row!" and they left us alone. The loss really pulled the plug on the worst of the insults, though.

The roads were AWFUL on the way home. Apparently, New York doesn't own any snowplows, haha! Truthfully, the roads were awful all the way down 219, including well into Pennsylvania, as well as most of the way on I-80, until about 2 exits away from ours. Then suddenly, the roads were 1000% better. We got lost in New York because the snow was sticking to the road signs on the Eastbound side. We called my sister, who did a quick GPS scan of where we were on her fancy phone to help us get back on track. We were only about 20 miles out of our way, and in the scope of the trip, that wasn't too bad. We got back on the Westbound side of the highway, and the signs were bare. (That helped a lot!) It took nearly twice as long to get home as it did to get there because driving conditions were so poor. We passed 2 accidents (one really bad one) and 3 cars that had slid off the road. I was never so happy to pull into my driveway.

Here's another video clip. This one shows the Penguins leaving the ice after winning, then I moved up to the scoreboard and recorded the night's three Stars. Bet you can't guess who the First Star was:


It was an absolutely amazing night that we were privileged enough to be able to witness in person. If an outdoor hockey game
comes to your area
, whether it's an exhibition or a regular season game, YOU MUST GO. It is unlike anything you'll ever experience. Nobody knew exactly what would happen yesterday, but everyone knew it would be special, and I still can't believe I was lucky enough to be there. :)
Labels: New Year's Day Ice Bowl, recap, snoop attended this game