Since the Pens are still off until tomorrow, I've got something a little different for you today.

WARNING:

If you're still on dial-up for your internet connection, you might want to go get a cup of coffee and a snack while this page finishes loading...

I think good

Friend of The Show

Pensgirl got something very cool started for

TSCS

. Since I began using some of her photos in recent posts, a lot of you have sent me some pictures of your own. I welcome you all to send me some of your own photos. I love seeing them, and I'm pretty sure you guys like seeing other people's pictures, too. I appreciate

all

of the pictures I get, and if you take the time to send one (or more) to me, I will

definitely

post it (or them, haha). Any photos you send to me will be credited as your work in the post in which they are used. Just let me know in the email with the picture(s) how you would like to be identified - whether it's by your real name or your Blogger name. Here are some of the ones I've gotten recently.

First up, we've got a sweet pregame shot of the Saint by Vanessa D. It was taken at the September 22, 2007 preseason game featuring the Detroit Red Wings at the Mellon Arena:


(Click this image to enlarge it so you can see all the players that she got in this picture.)



Remember the December 11, 2007 game against the Flyers? I wouldn't blame you if you didn't because you (like me) have attempted to suppress the memory - they destroyed the Pens 2-8. Teka from Talk Hockey To Me was there sitting in AMAZING seats that afforded her the opportunity to take some AMAZING closeup shots:




(In case you can't tell, that's Ty Conklin.)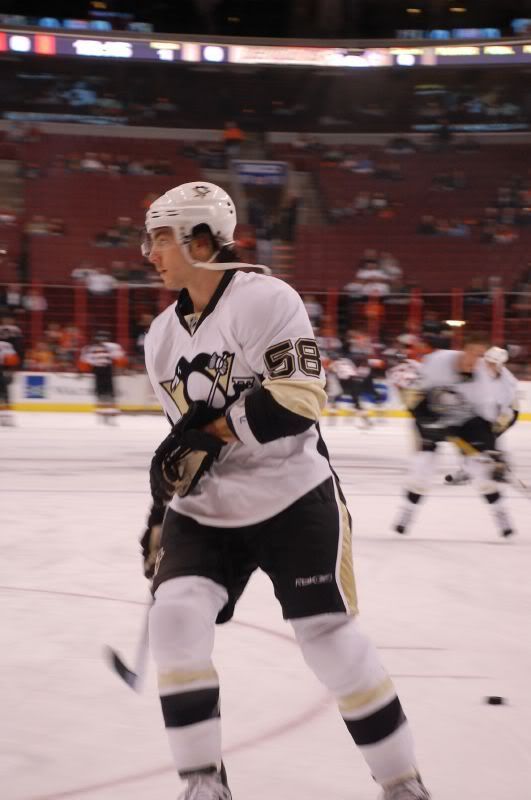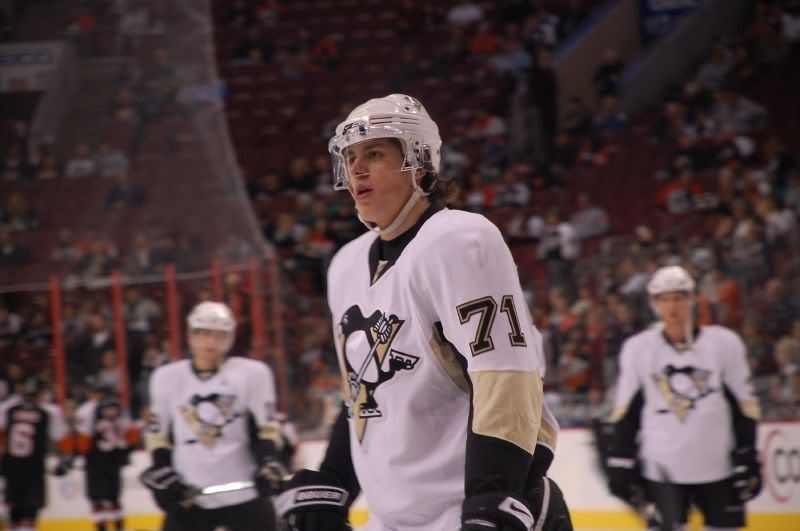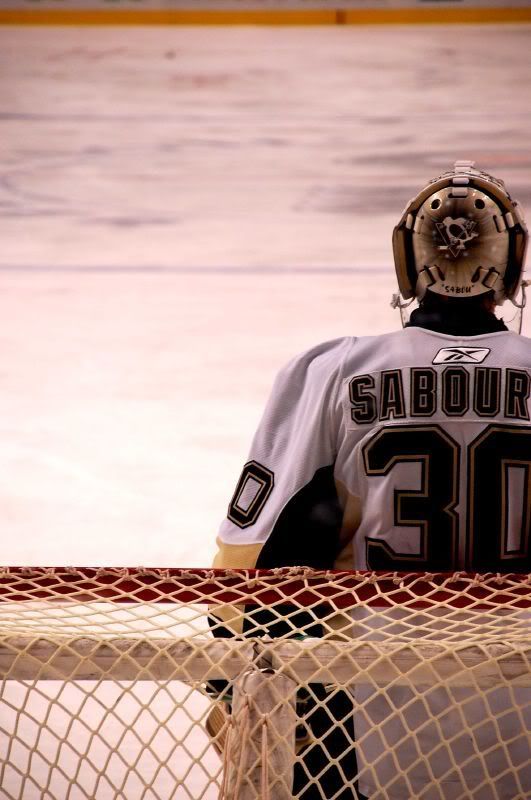 GARY ROBERTS!!!



So, do you remember how Roberts annihilated the much younger, much bigger, much jerkier Ben Eager in this fight?





Teka got these pictures of it (notice Sid in the background - he's not stupid enough to get involved in THAT melee):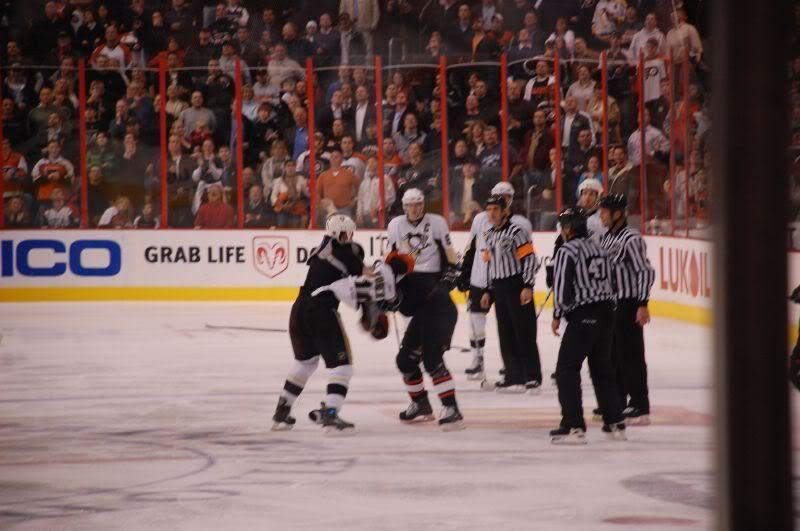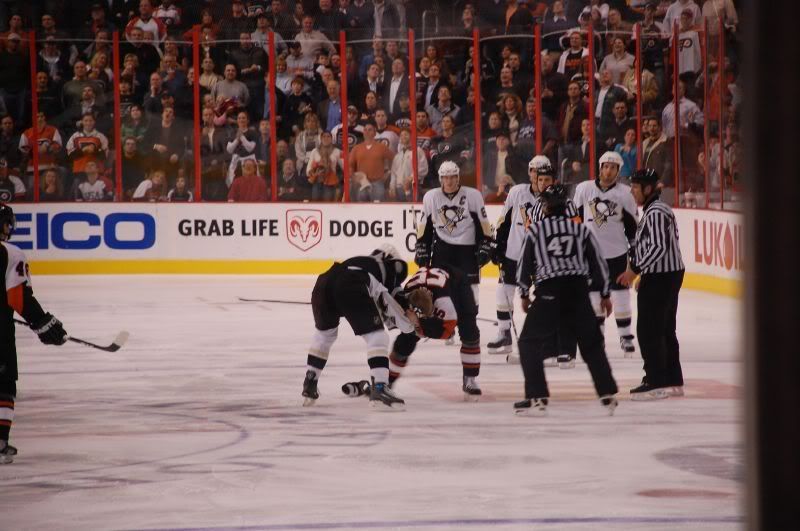 Speaking of Sidney...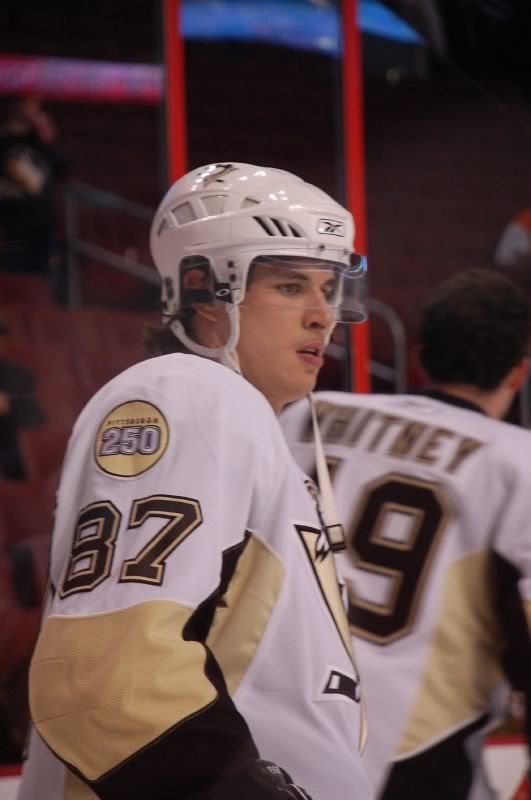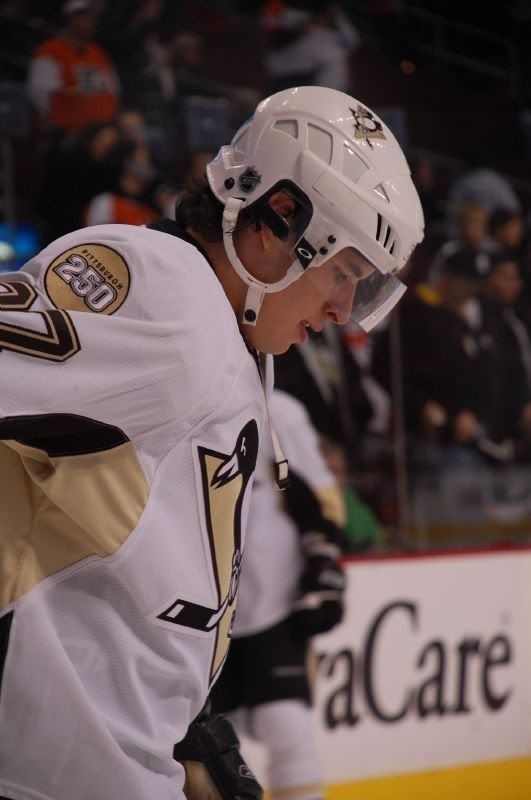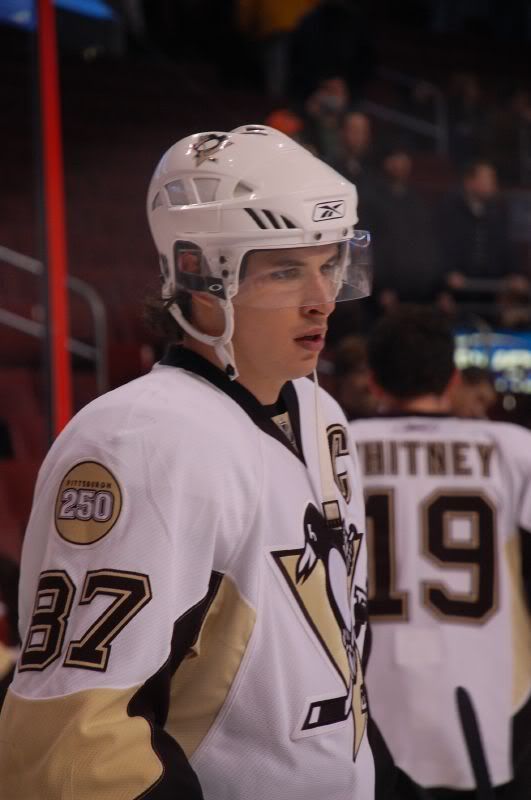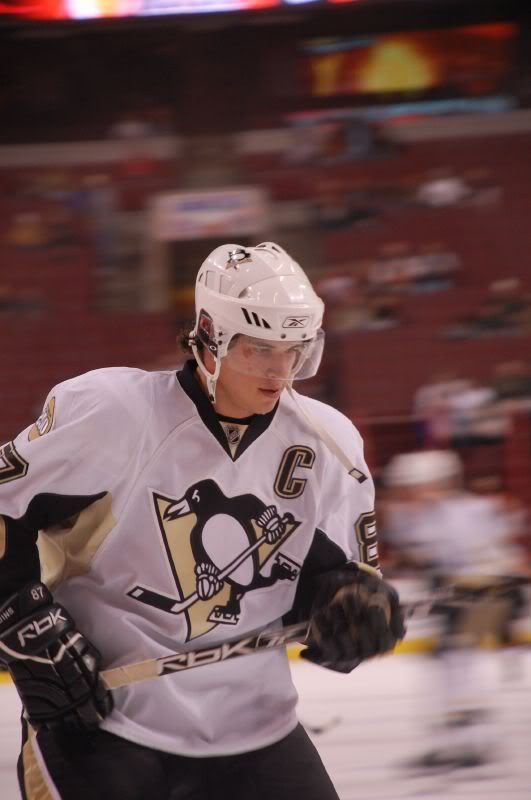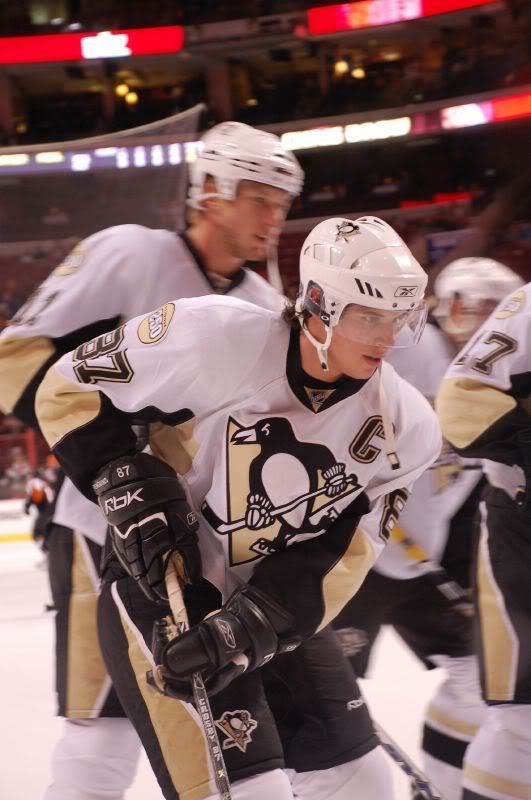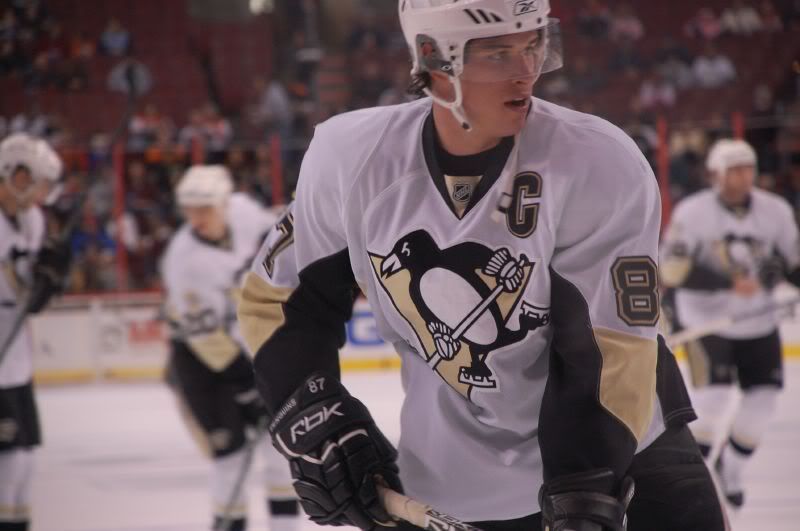 Now here's one that'll make you get a little misty eyed...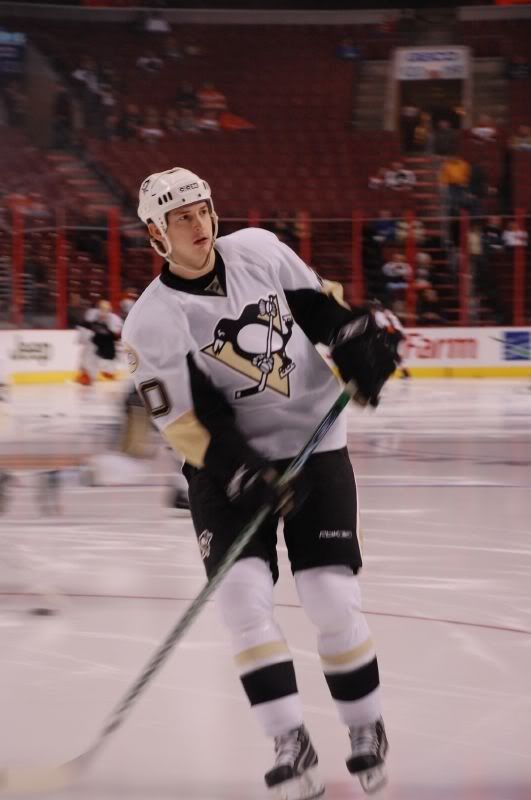 ...which now brings us to these shots of Army taken by Alyse from Hockey n' Hair Highlights. She went to last night's Capitals/Thrashers game (the Caps won 4-1). It's really weird to see him in a different uniform rocking the number 19: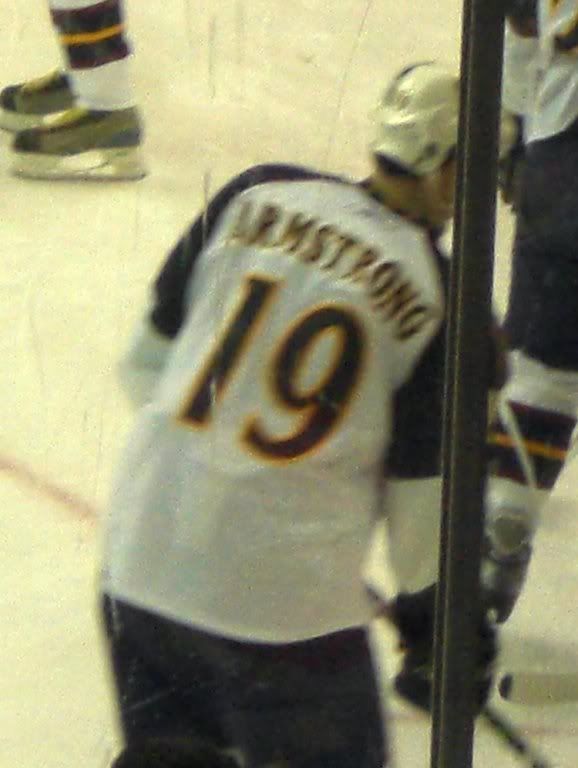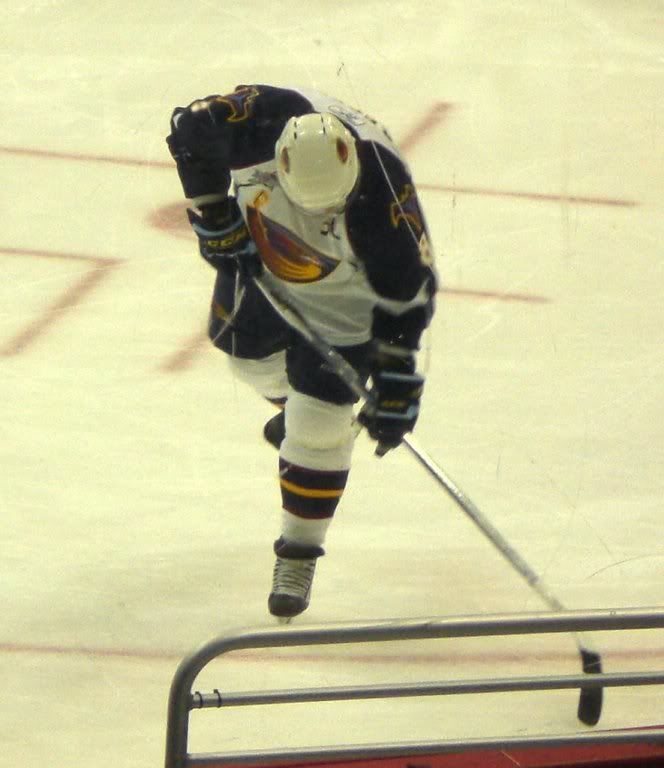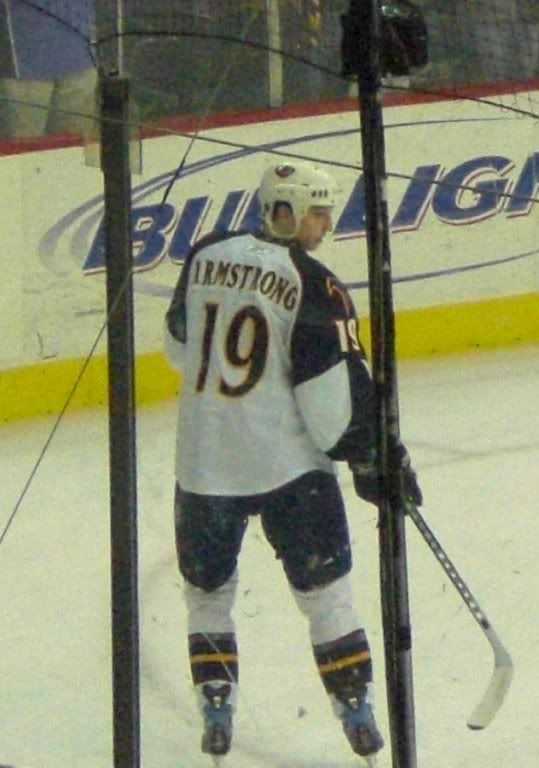 Finally today, now that we've all got Sid's reaction to last week's own goal by Nicklas Backstrom as our ringtones and computer startup sounds (if you didn't get the ringtone or the mp3 yet, click here), Pensgirl - who was lucky enough to witness that goal in person - brings us the sequence of events from her perspective:



Sid is about to make a centering pass...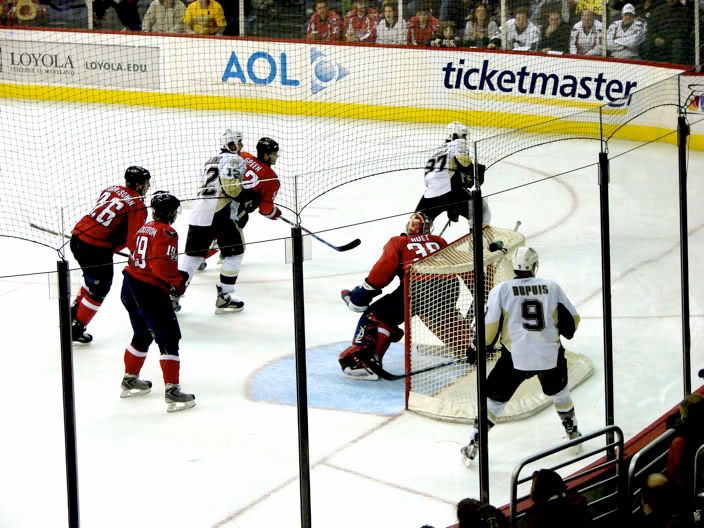 ...and Backstrom is just about to stun Caps fans everywhere.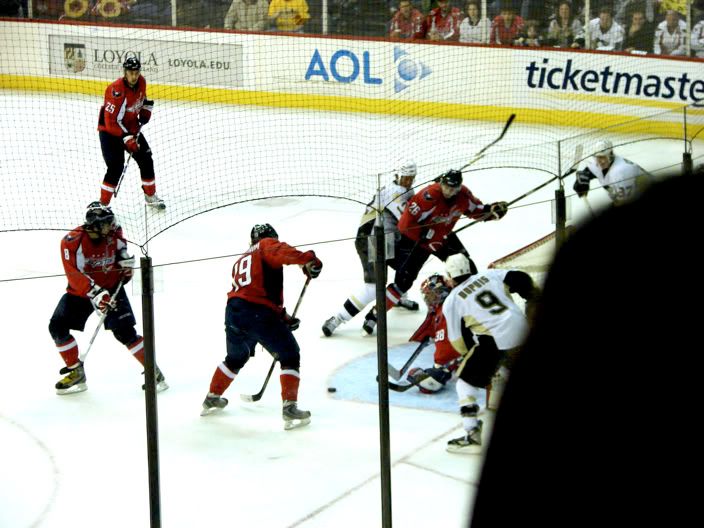 "Did he shoot that in his own net?!"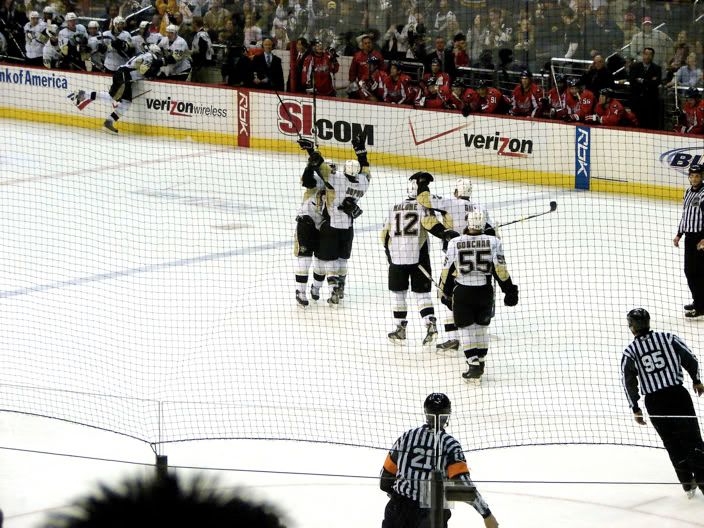 "He shot that in his own net!!!"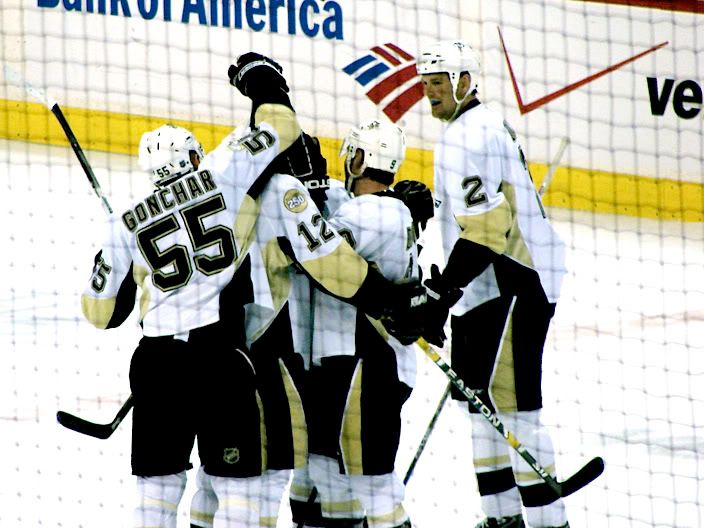 Meanwhile, the players on the Pens' bench don't bother to even try to contain their laughter. Check out Geno's face in particular (far right side of the bench).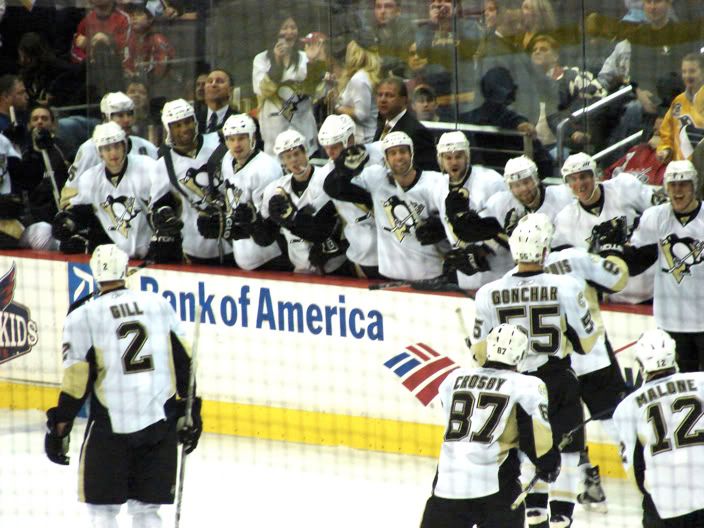 LATE EDIT:

Pensgirl zoomed in on the third shot in the above sequence and focused in on each team's bench for us so you can see their respective reactions to Backstrom's error.



Oooooohh... Backstrom's probably STILL getting the silent treatment...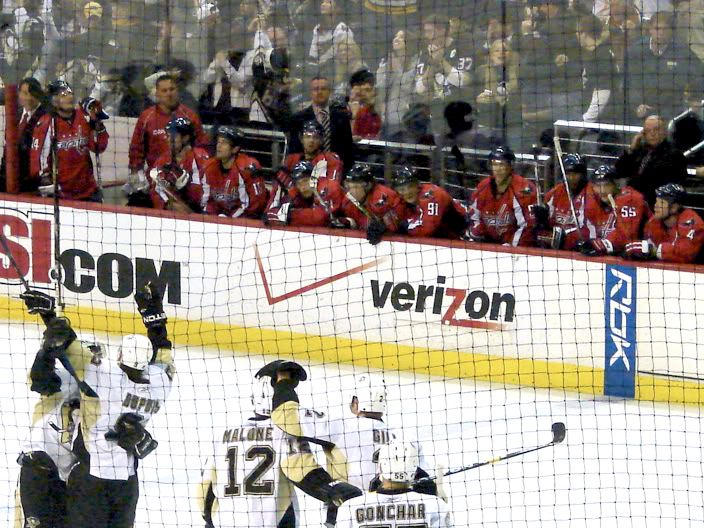 And just what the hell is Geno doing here, LOL?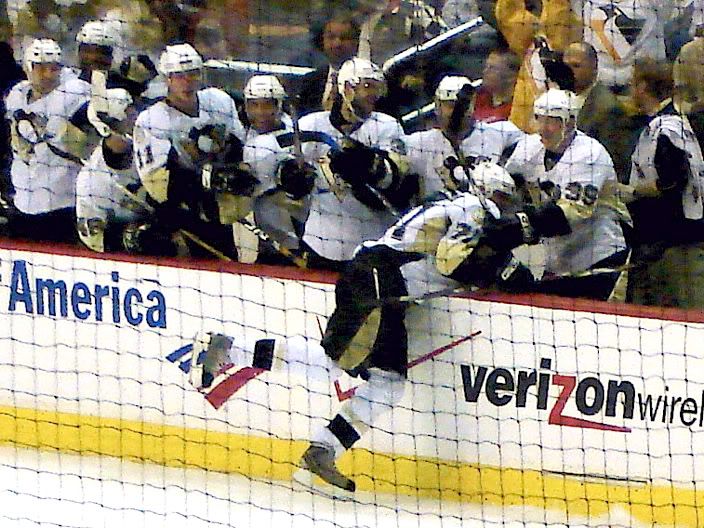 One more thing before I let you go: The Penguins held their 22nd annual Skates & Plates gala to benefit the Western Pennsylvania Chapter of the Cystic Fibrosis Foundation. At the event, a nice meal is served, and the players become waiters for the night. The formal affair is just one of the ways the Penguins give back to their community.


Our boys clean up quite nicely, don't you think?


(Check out all the photos from the event - just click here.)

I just want to say

many, many thanks

to all the

Friends

who made today's post possible. :)
Labels: photos, reader submissions