W.O.W. That was one

helluva

game.

I really hope you all got to watch it since it was NBC's Game of the Week. (Incidentally, next week's Game of the Week will see the Pens facing the Flyers.) I apologize for not posting yesterday - I had Internet connectivity issues. Thank God I have Internet today because this game was definitely something to talk about! It was a really physical game - so physical I felt like I needed a helmet just to watch it! (Okay, that was a lame joke, but you get the idea.) In a pregame interview, Sid credited Evgeni Malkin with making "guys around him better and playing well at both ends." Pittsburgh isn't too far from Washington D.C., so it wasn't exactly a shock that, when NBC showed Caps coach Bruce Boudreau, we saw a set of Pens jerseys prominently behind the Caps' bench.

Early in the game, the hits started. Sid made a nice centering pass to Pascal Dupuis, but Cristobal Huet blocked the shot. Mad Max Talbot took a penalty for hooking on that play. On the Caps' power play, we're told that NHL refs are supposed to shoot for consistency in calls. Then Alex Ovechkin freight trained Geno. Kris Letang rushed in to defend his superstar teammate and was confronted by Alexander Semin for his efforts. Semin was sent to the box for roughing to even things up. Neither team scored on their respective power plays. Tyler Kennedy played the game like his life depended on it today. He was working the boards against guys nearly twice his size - and holding his own quite nicely. Later, Sid was taken down against the boards and lost his helmet in the process. Mike Green then took a hooking penalty. On the ensuing Pens' power play, Sid couldn't get past the defense. He was knocked over by Shaone Morrisonn and then held down when he was caught between Tom Poti's legs while he was down. The "boo birds" were out in force every time Sid touched the puck today. The puck took a fortuitous bounce to Petr Sykora's stick, but his shot was blocked by Huet. The Pens didn't score on their advantage.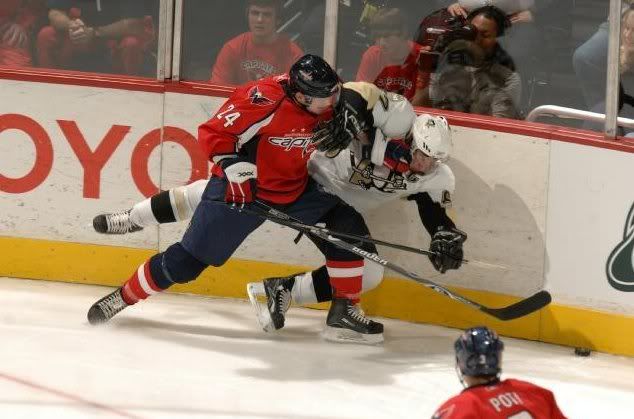 Cooke takes Sid down just before Poti comes in and knocks off his helmet.


Sid would exact a little revenge on Morrisonn by taking him out with a big hit of his own about four minutes after the hit mentioned above. The Saint then set up a chance, but nothing came of it. Jarrko Ruutu put a big hit on Boyd Gordon and then collided with Matt Cooke at center ice, drawing the whistle. He got into a little shoving/shouting match with Cooke, and as Ruutu went to the bench, he made a detour past the Caps bench to tell Semin and Ovie to "keep your heads up because you're next!" (You gotta love that guy, but seriously, how much would you hate him if he wasn't on our team?! HAHA!) Letang put a respectable hit on Donald Brashear. But Ruutu then let his temper get the better of him on his next shift by putting a hit on John Erskine from behind. He was called for charging with 2:04 left in the period. On the ensuing Caps' power play, Marc-Andre Fleury saved, covered, and a scrum developed in front of him. And then that sequence was repeated. Ryan Whitney took a big hit from Victor Kozlov and was slow to get up but seemed okay after that. The Caps didn't score on their advantage, and the final four seconds of the period ticked away. The first period ended with both teams scoreless.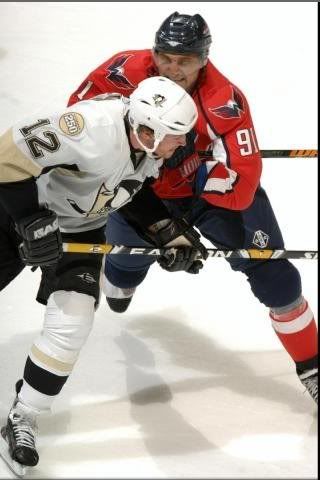 Malone goes up against Federov.


During the intermission, NBC showed a nice segment that had short clips of Whit, Ryan Malone, Sabres goaltender Ryan Miller, and Rangers veteran Brendan Shanahan talking about why Sid is considered the best player in the league. After it was over, Pierre McGuire pointed out that anyone who says otherwise and/or criticizes Sid is just jealous that he's not on their team. (He was talking to you, Don Cherry!)

We took a deep breath and the second period began. The hits weren't as frequent in the 2nd as they were in the 1st. Flower was making saves all over the place. One time, he made a great save despite the fact that he was well screened. Sid was wearing a mic for NBC. They played a few Sounds of the Game for us. We heard Sid requesting a skate check from equipment manager Dana Heinze, but this was the funniest clip:

[Sid talking to the ref about the faceoff]

"How quick are you gonna drop it? Five seconds is five seconds!"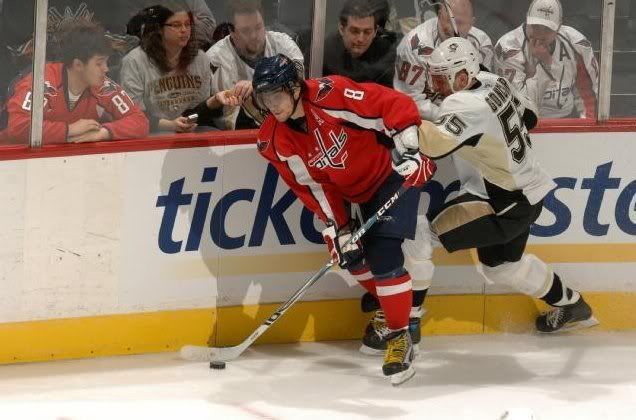 Ovechkin is bothered by Gonchar.


The Pens got a big break when Koslov blasted a shot that hit the goal post. And just as we have an agitator in Ruutu, the Caps have their own in Cooke. He made his presence known when he pushed Sergei Gonchar into MAF. Gonch toppled onto Flower, but Cooke played it close enough to the vest that he didn't take a penalty. Semin got a 1-on-none chance, but Letang was just behind him and was able to back check and prevent Semin from getting a shot on MAF. Syko took a penalty for holding. On the ensuing Caps power play, Dupuis had two nice shorthanded chances in a row, but Huet made both saves. Halfway through Syko's penalty, Brooks Orpik was called for slashing. MAF made a series of absolutely amazing saves to keep the game scoreless during the 5-on-3, but seconds later, while the Caps still had a one-man advantage, Quintin Laing lost his helmet in the chaos that developed in front of MAF. Semin got the puck and blasted it on goal. Brooks Laich was there to tip it in behind Flower. [Pens 0, Caps 1]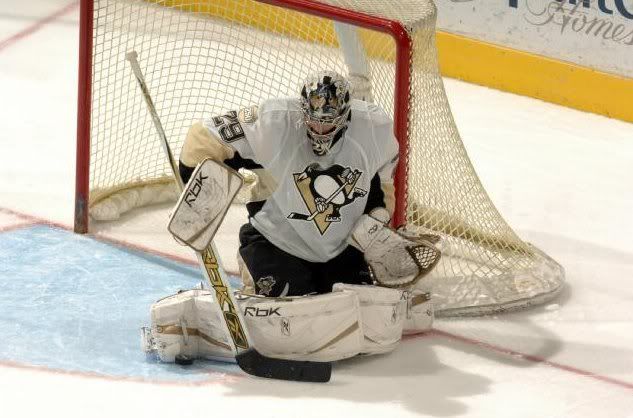 MAF made some beautiful saves today.


Flower was visibly upset with what transpired in front of him, but less than ninety seconds later, the Pens developed a 3-on-2. Jeff Taffe carried the puck over the blue line then passed it to Geno. Taffe and Geno had drawn the Caps' defenders, and Geno, seeing this, sent the puck to Syko. You know what that means! [Pens 1, Caps 1]

Later, Sid took a page out of Geno's book by playing defensively around MAF then carrying the puck to the Pens' offensive zone. He looked really good out there on the ice today. He's nearing 100%. His efforts in the Caps' zone led to Morrisonn taking a penalty for tripping Dupuis. On the ensuing Pens' power play, we see that Sid's mouthiness has returned when he disagreed with an offsides call. :) The Pens didn't score on their advantage. A viewer emailed a question asking McGuire, Eddie Olczyk, and Mike Emrick who was the better player defensively, Ovie or Sid? They unanimously agreed that the edge went to our title man. :D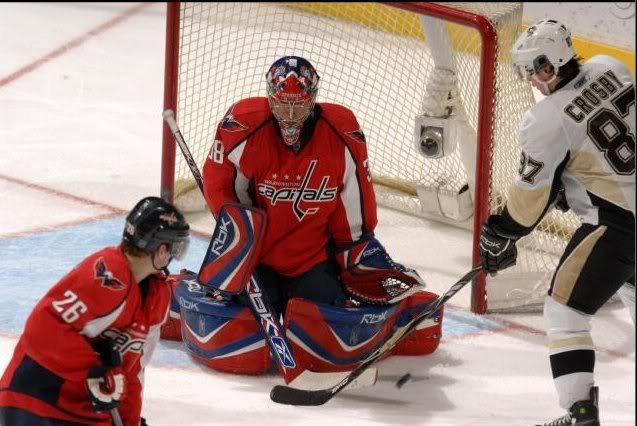 Sid works in front of Huet.


Proving that he is in fact human, Geno flubbed a bit on a delayed penalty to Sergei Fedorov. MAF went to the bench in favor of the extra attacker. Geno had the puck on the blue line and for reasons known only to himself, he banked the puck off the boards behind (towards the empty net!) but luckily, Hal Gill was able to get to the puck before it went into the empty net. (The Pens bench apparently was apparently like, "Geno, what are you doing?!") During the Pens' power play, Laich went full speed shorthanded towards MAF. Laich was a stride ahead of Whit, but MAF blocked Laich's shot. Laich then fell into MAF, knocking him down. As the penalty to Federov expired, Whit had the puck at the near side. He sent it cross ice to Gonch, who then passed it to Geno. He blasted a shot towards the goal that Huet blocked but did not cover. Sid was right there in front to get the rebound into the net for his first goal since his return!!! [Pens 2, Caps 1]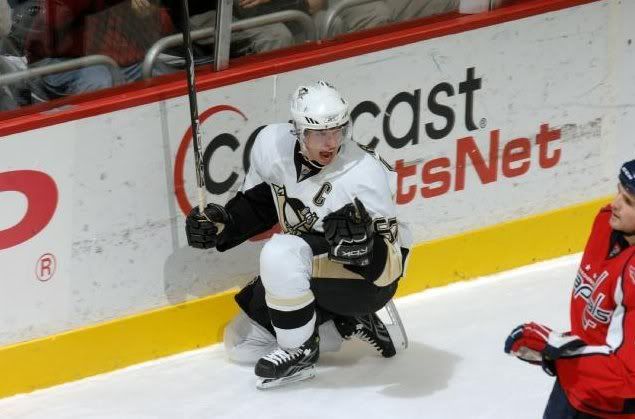 Sid celebrates his first goal since returning from his injury!!!


Things started to get a little hairy when Gill was given a cross checking penalty for hitting Nicklas Backstrom. Less than 30 seconds into Gill's penalty, Orpik took yet another shorthanded penalty this time for roughing. The Caps evened it up on the 5-on-3 when Semin scored on the short side of Flower. [Pens 2, Caps 2] The Caps still had a significant amount of time left on the penalty to Orpik as the seconds ticked down to the end of the second period.

The third began with the Caps working with 1:32 on the penalty to Orpik, though the Caps didn't score on their advantage. Then Ovie blasted a shot on MAF. Flower made a beautiful glove save, and Ovie kept going at MAF. Whit gave Ovie a little shove from behind to let him know it wasn't appreciated. NBC showed a clip of Marian Hossa practicing and laughing this morning. We were told that Gary Roberts was also practicing, but we didn't get to see any clips of him. Geno and Syko made a go at Huet, but Huet made stops on both of Geno's shots. Later, Sid and Malone had a nice give and go, but Huet stopped Sid's backhand shot. Then poor Dupuis took a puck to his left ear. He went down in a heap at center ice, but he would return later in the game after receiving attention from the trainers on the bench.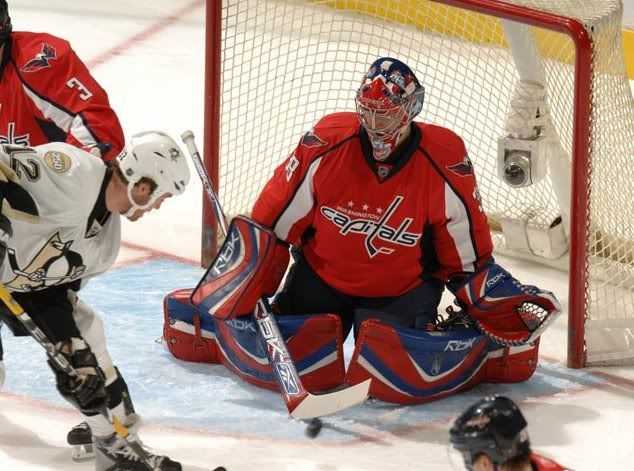 Huet denies Malone.


Kennedy fanned on a shot but kept control of the puck. He sent it to Max, who saw that Jordan Staal was wide open. Staal's shot was blocked by Huet. Laing put a knee on knee hit on Geno a little later. During the Pens' power play, Sid made one of his trademark dipsy-doo moves to get around everyone, but he couldn't get past Poti. A couple of Caps broke their sticks, and Geno had a 1-on-none chance, but the Pens did not score on their advantage. When the teams realized that there were less than five minutes left in a tie game, things opened up. There was absolute insanity in front of Huet. At one point I think Gonch hit the crossbar. The Pens fired shot after shot after shot after shot. Then, the Pens were called for having too many men on the ice. Coach Michel Therrien was less than pleased with the call prompting McGuire to say that Therrien "thought he got jobbed." (SWEET!) The Caps did not score on their advantage.

With only 28.3 seconds left in the game, the Saint came around in front of Huet from behind the net and made a one handed pass that was intended for Dupuis. Backstrom flubbed defending his net and put the puck behind his own goaltender. [Pens 3, Caps 2] Several Caps (namely Huet and Ovie) dropped to their knees in disbelief. NBC played the clip of Sid's reaction: "WOOOOOO!!! Did he shoot that in his own net?! He shot that in his own net!!!" Sid was given credit for the unassisted goal and was shown laughing on the bench.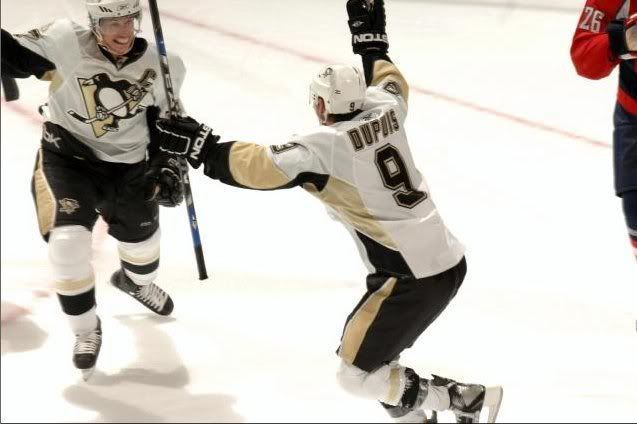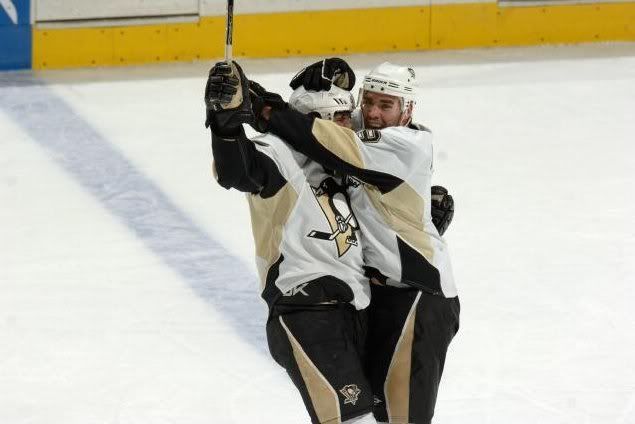 The Saint and Dupuis celebrate Backstrom's mistake.




LATE EDIT 1:

Good Friend of The Show Michelle B. just sent me this video of this goal (and Sid's reaction to it) with the word "Pwnage" as the subject, HAHA! Enjoy:


The Caps pulled Huet in favor of the extra attacker in hopes that they might be able to tie the game in the last seconds and force overtime, but Geno made a stunning diving defensive play to strip them of the puck at the blue line. He quickly got back to his feet and took the puck 2-on-1 with Staal towards the empty net. He could have added another point to his total for the race for the Art Ross with Ovechkin

*

, but he admirably and unselfishly sent the puck to Staal, who promptly scored the insurance marker in the empty net. [Pens 4, Caps 2] It was the first time in about two hours that I was able to breathe deeply. Time ticked down and the Pens took the 2 points. WOOOOOO!

The Pens are off until Wednesday, when they come home to Pittsburgh to face the Miller and his Buffalo Sabres. I'll be watching for news about both Hossa and Roberts. (If you see something before I do, make sure you send it my way!) GO PENS!!!!!!!



* Late Edit 2:

I totally didn't even think about the credit for the assist that Geno would pick up for Staal's goal. (Haha, I don't even have an excuse!) Anyhow, it doesn't change the fact that it was still a classy move by Geno to let Staal get the empty netter. Shout out to Bill in NS for pointing out my mistake. ;)

Labels: recap