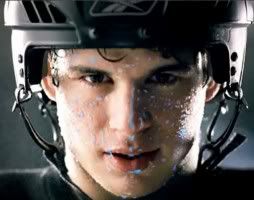 Most celeb/athlete endorsements are pretty crappy, but Gatorade has shown that they can come up with some pretty good advertisements over the past few years. While the good ads typically involve basketball, the producers of sugar-water have diverted some of their resources to
Sidney Crosby
and hockey.
The new Gatorade campaign, "Sticks", is a spoof of a road hockey game. When Sidney puts his stick in the pile, chaos ensues.
(See the spot on the
Gatorade.ca website
)
A big assist to
Kukla's Korner
for the pointer.
Gatorade's new integrated marketing campaign featuring NHL phenom Sidney Crosby launches across Canada today, and acts as a national rallying cry uniting Canadians in celebration of road hockey. The campaign consists of 30- and 60-second versions of the television spot "Sticks," a 60-second cinematic version, public relations activities, as well as an on-line contest at Gatorade.ca. "Sticks" debuts in English and French across Canada Monday, April 17th, in time for the NHL playoffs.
I saw the ad before a movie the other day, and I felt it was well done. It's corny, but in a good way. Sidney has that "aw shucks" charm about him and the whole spot is well produced and very involved.
Labels: advertisement, Gatorade, sidney crosby, TV spots