WOOOOOOOHOOOOOO!!! WHAT A GAME!!! Before the game even started, FSN Pittsburgh addressed the questionable yet unpunished behavior of IFHSA™ throughout this series. They showed a replay of the face scrap, the slashes, and the fight with Giant Hal Gill in front of MAF at the end of Game 2. Upon seeing it again, IFHSA™ actually took a swing at Gill with his stick as Gill was dropping his gloves. This guy needs to be dealt with. That's another difference between Jarrko Ruutu and IFHSA™ - Ruutu wants to irritate people; IFHSA™ wants to hurt them.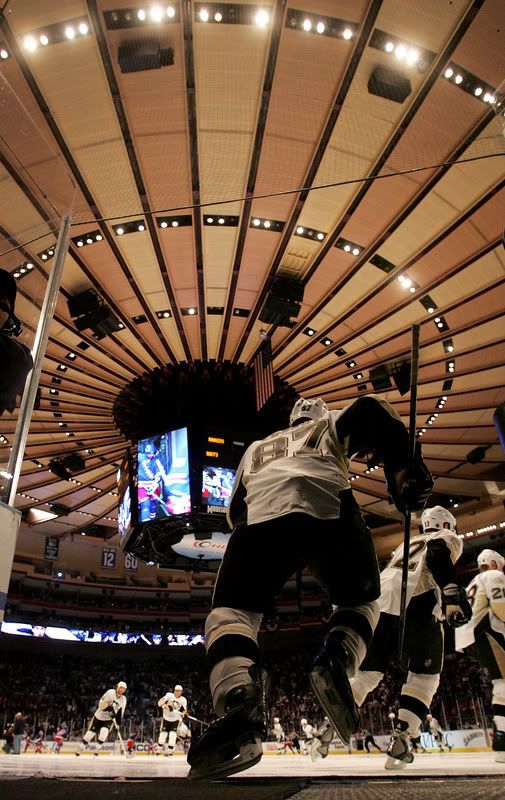 Right away, the boo-birds returned the captain-booing favor to Sid. (Surprisingly, there were no audible chants of "DIV-er!!!" I thought for sure they'd jump all over that.) But remember what I said after Game 2? Sidney doesn't get mad, he gets even - in points. He stole the puck to create an amazing play. He passed the puck to Pascal Dupuis, who then centered a pass for Sid. Henrik Lundqvist was able to shut the door on the Saint, but Marian Hossa was there to shoot the rebound into the net to give the Pens the lead 1:02 into the game. [Pens 1, Rangers 0]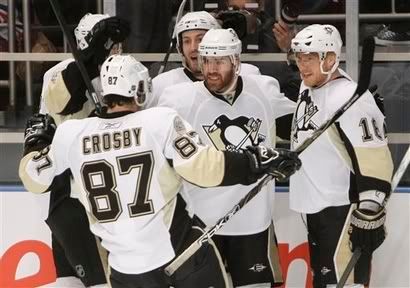 Immediately following, Marc-Andre Fleury made a big save on Jaromir Jagr. The teams came out swinging with a lot of big hits early. Then, somehow, someway Martin Straka missed a wide open empty net after Jagr faked and MAF bit. MAF was out - WAY out - and I think my Grandma could have put the puck in that net, but Straka missed. It was good for us, though! Captain Crybaby went down after getting checked. The fans demanded a penalty, but it was a clean hit so no dice. Seconds later, Double J (or Double C, haha) hauled Hossa down to prevent Hossa from getting a breakaway. But the refs believed that Hossa embellished the fall a bit too much (whatev) and so both the Crybaby and Hossa went to their respective boxes. Evgeni Malkin and Ryan Malone

dominated

the 4-on-4. Marc Staal destroyed his little brother Jordan with a huge hit. Neither team would score on the 4-on-4.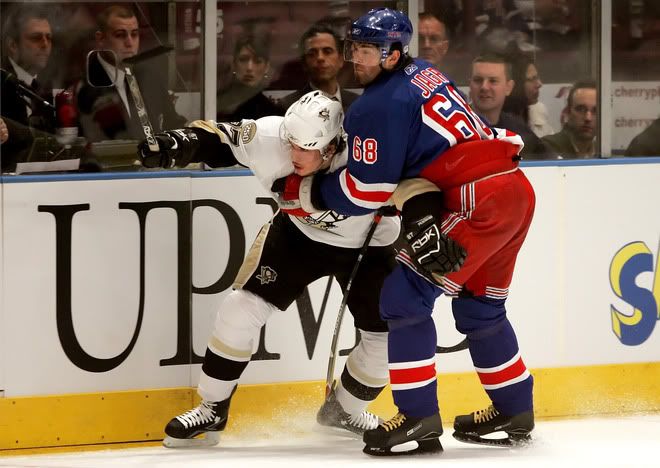 MAF made an unreal glove save on Crybaby with such confidence that he almost had a swagger - if that's possible on skates, haha! Straka missed yet another wide open net a bit later. The curse of the open net would strike the Pens after Geno and Petr Sykora had a 2-on-1 rush, and Geno had a rare miss on an open net. MAF froze the puck on a later play, but Nigel Dawes kept chopping away at the puck because the whistle hadn't blown. He paid for it, though, when he was shoved head first into the goal post for his efforts.

The Pens had a few chances before Ryan Whitney came in and completely fanned on a shot. This left him trapped down low while the Rangers developed a 3-on-1. MAF made the initial save, but the rebound bounced strangely and went to Straka. He fired it right back on goal. There was a mess in the net with Jagr getting sandwiched then pushed on top of Flower. The puck appeared to cross the goal line, but the net was coming up off the moorings. The ref doesn't make a call, the light doesn't go on, and fights break out EVERYWHERE. The play went under review while roughing penalties were handed out to Whit, Bugsy, Kris Letang, Crybaby, Brandon Dubinsky, and Paul Mara. After we're shown a replay that shows that the puck actually crossed BEFORE the net came up, bounced out off MAF's pad, then back in as the net came up, so IT'S A GOAL. [Pens 1, Rangers 1]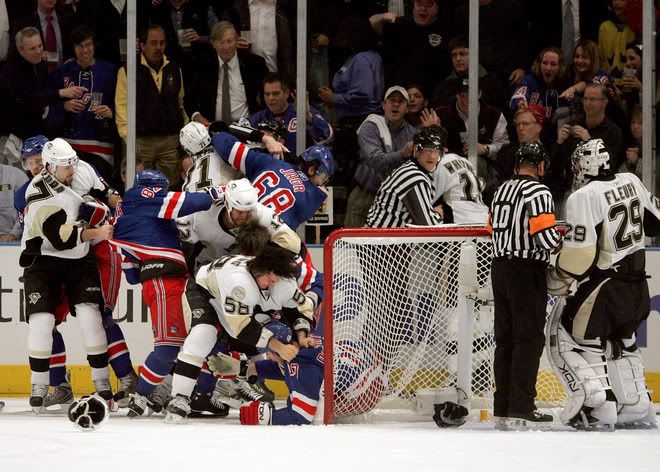 Ryan Callahan and the Saint got a little pushy with each other. Just afterwards, Big Georges Laraque was sent out on the Steel City line in place of the penalized Bugsy. In a reversal of roles, Syko found himself behind the net while BGL was in front. Syko sent a pass out front that got redirected slightly by a Ranger's skate. BGL coolly pulled the puck in and set himself up for a shot that hit the crossbar and went in behind Lundqvist. [Pens 2, Rangers 1]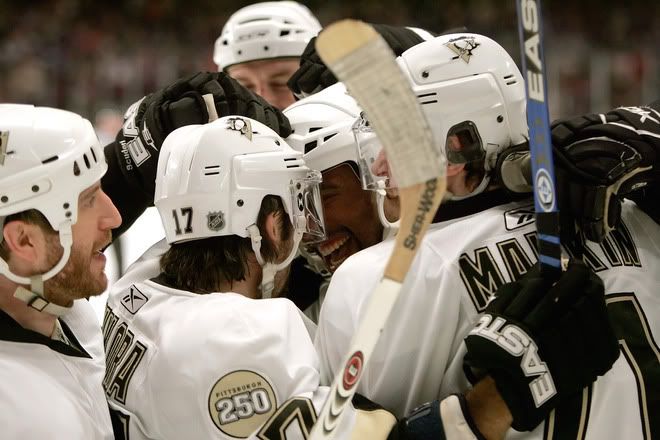 About 30 seconds later, Callahan got his stick WAAAAY up and caught 6'7" Gill. Callahan was given a double minor because there was some blood. Following a great pass from Sergei Gonchar, Geno fired a wicked one-timer that Lundqvist probably didn't even see until the red light was already on. [Pens 3, Rangers 1] Incidentally, this was Geno's first goal at Madison Square Garden!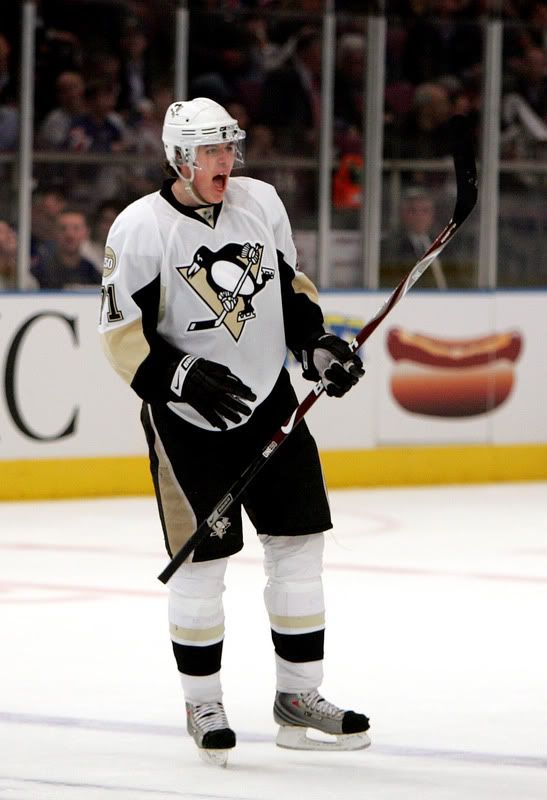 Congratulations to Geno for his nomination for this year's Hart Trophy!!!!!!!!


The Pens still had an advantage with Callahan's second penalty but were unable to score on it. The 1st period ended with the Pens ahead by two. During the intermission, FSN reporter Dan Potash interviewed BGL about his big goal. An obviously ecstatic BGL then gave Potash a kiss on the cheek before returning to the locker room!!! (← If anyone can get a screen shot of that, I'd really appreciate it!)

The 2nd period began with a big save by Flower. Then the Penguins had a series of concurrent penalties. Okay. Stay with me here: Syko got the first penalty for holding. With 42 seconds left in his penalty, Dupuis took a penalty for hooking. On the 5-on-3, Crybaby was somehow left unchallenged on the left wing. He fired a wicked shot, but MAF absolutely stoned him. Syko came back to the ice. With 33 seconds left on the Dupuis penalty, Brooks Orpik took a roughing penalty after Callahan's exaggerated embellishment fooled the refs. On

this

5-on-3, Rob Scuderi, who's silently dominating the team with a +7, went absolutely nuts. He blocked shots with his body. He got hurt, but stayed out. Finally, he got an opportunity to clear the puck. UNREAL. What a warrior! Dupuis rejoined his team on the ice while Orpik had about 33 seconds left on his penalty. Mad Max Talbot pulled a monkey-see-monkey-do by blocking shots with his body. SOMEHOW, the Pens held the Rangers scoreless throughout this mess.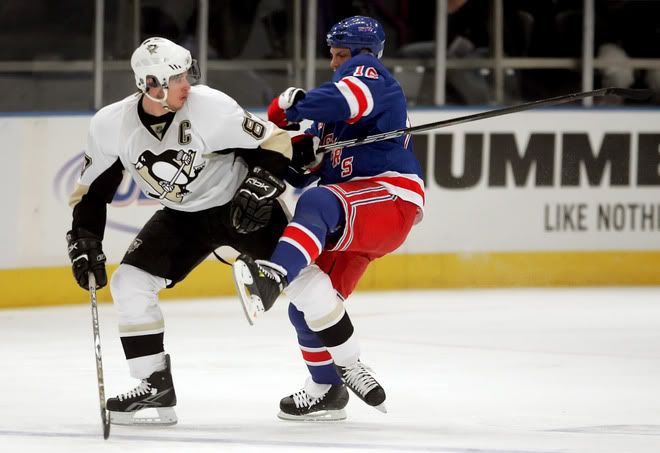 Geno later gave the puck away in his own zone which would have led to a goal if the man to take the final shot was anyone but Straka, who tripped this time and couldn't take a shot at all. We were told that Gary Roberts is well enough to play again, but that Coach Therrien is reluctant to change the line up since the current lineup is so damn hot. Sid stole the puck and set up Dupuis, but Lundqvist blocked the one-timer. Then the Rangers got the puck and took it the other way. Scott Gomez was behind the net and centered a pass for Callahan. He put it in behind MAF with a quick shot. [Pens 3, Rangers 2]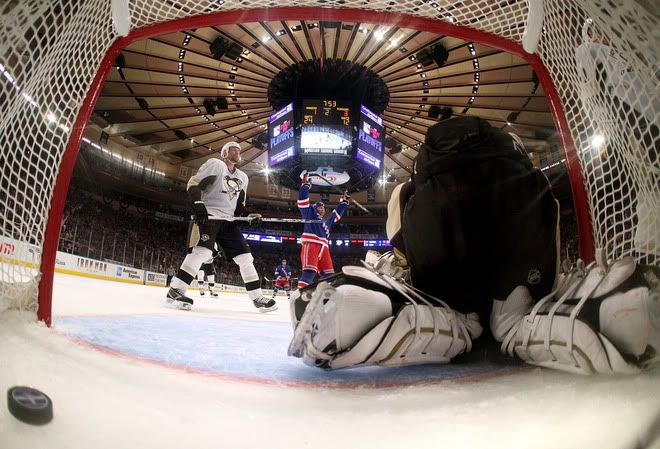 Only 1:04 later, Crybaby was left unchallenged AGAIN. He took the puck behind the cage, came around the corner, and fired a shot. It went high and over MAF's shoulder. [Pens 3, Rangers 3] Bob Errey described the shot and mentioned that Crybaby used the "illegal curve" of his stick to make the shot curve the way it did.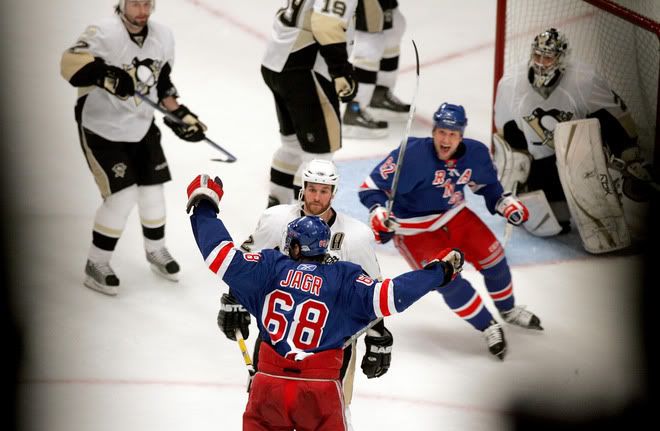 At this point, it became a new game. The Rangers began dominating possession. They opened up a can on the Pens and were probably about to make something happen when Ryan Hollweg, who is always one to take stupid penalties at the worst times for his team, did it again when he hit Syko from behind. He was given 2 for boarding. On the ensuing Penguins power play, Sid faked a shot then passed it to Geno for another one-timer. The puck flew into the back of the net with 3 seconds left on Hollweg's penalty. [Pens 4, Rangers 3] The Pens would take their one-goal lead to the third.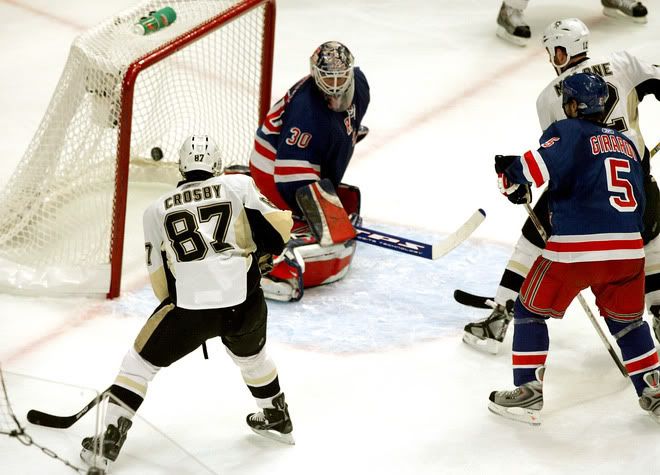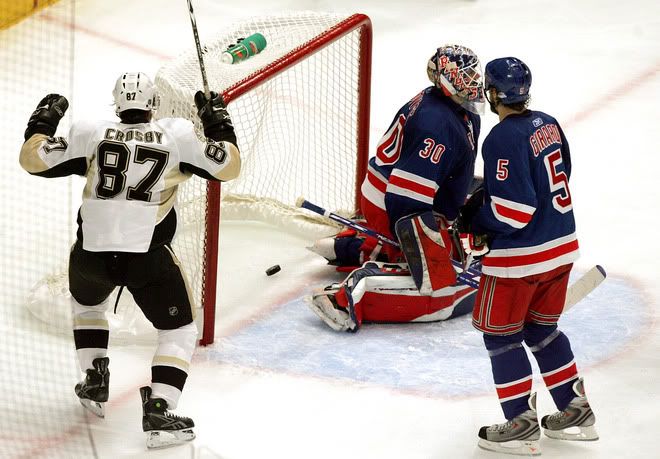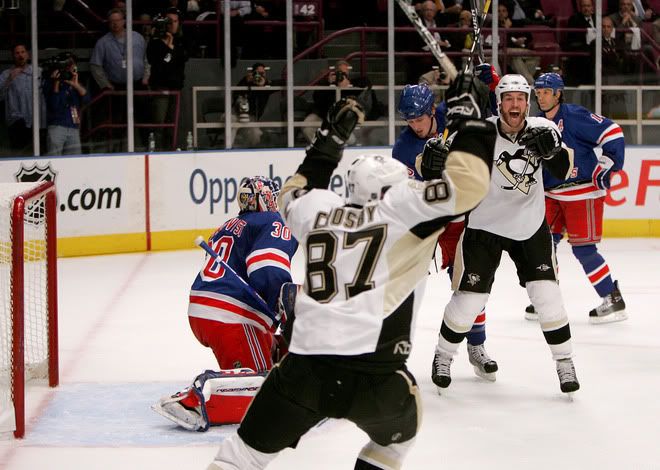 The 3rd period began with Orpik getting slashed by Gomez, who got away with it. About 2½ minutes into the period, the MSG announcer actually had to get on the loudspeaker to try unsuccessfully prompt a "Let's Go Rangers!" chant. In fact, it backfired. The teams were ready for the faceoff. Gomez was thrown out of the faceoff circle, so Callahan came in against Geno. Geno used his big body to cheat on the faceoff for the win to Syko. He passed it to Letang, who fired a shot on goal that Bugsy was able to tip into the net for the insurance marker. [Pens 5, Rangers 3]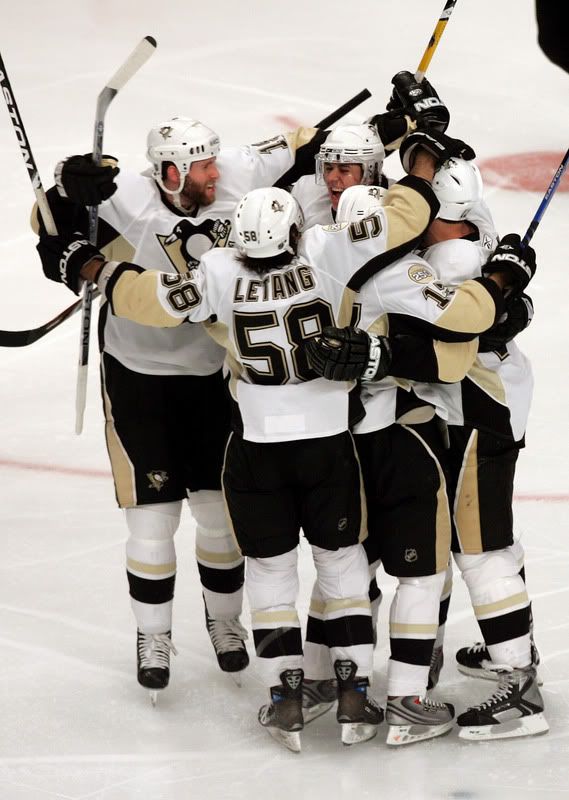 Even though there was nearly a full period left to play, not a whole lot happened. The Pens took and killed a few penalties; Gronk was a complete beast (← his importance to this team is unreal); Lundqvist was pulled at 1:35; IFHSA™ tried to start something at the end of the game again. At the end of the game, though, the Pens emerged victorious for their 7th straight playoff game!!!!!!!!!!!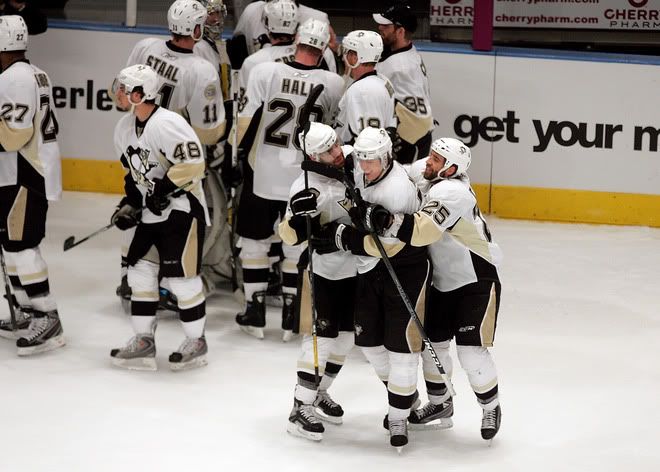 These two teams are set to meet at least one more time on Thursday at 7:00pm.



GO PENS!!!!!!!!!!!