Ugh. That wasn't pretty. The Pens could not break the Rangers' goalie. That, and they shot themselves in the collective foot with their 110 turnovers (practically every single Pen turned the puck over at least once tonight). Sid didn't play like we all know he can, Ryan Malone missed on a beautiful shorthanded breakaway, and Evgeni Malkin may have shifted the momentum of the game in favor of the Rangers when he missed a penalty shot. Jaromir Jagr, Brandon Dubinsky, Brendan Shanahan, and Henrik Lundqvist won the game for their team. The Rangers played the same game they've been playing throughout this series (complete with Jagr again doing the bulk of the work), but the exception tonight was that Lundqvist provided his team with a brick wall in front of their net. The Pens did NOT play terribly by any stretch of the imagination - they had TONS of scoring chances - but Lundqvist was clearly in the zone tonight and

NOTHING

got him out of it. He was bound and determined to get his second career shutout tonight - and he did.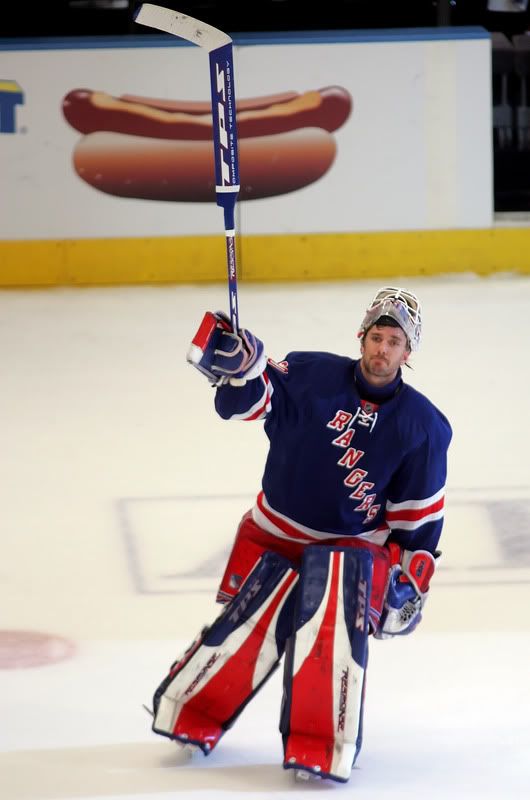 He had an unreal game. It's unfortunate for King Henry that this photo makes him look like he's ready for a super-sized wiener roast.


Some good news: Mr. Roberts has returned to the neighborhood. Gary Roberts, who was a healthy scratch in Game 3, was in to take the place of the injured Mad Max Talbot. The game had no sooner gotten underway than Michal Rozsival drilled Sidney into the boards awkwardly. He went in hip first and seemed shaken, but a few minutes later, when Marc Staal took a penalty for goalie interference, Sid was out on the power play. Sergei Gonchar made a pass that didn't connect with Geno, and the Rangers were able to develop a shorthanded 3-on-2, but Marc-Andre Fleury made a fine save to keep the game scoreless. The Pens didn't score on their power play.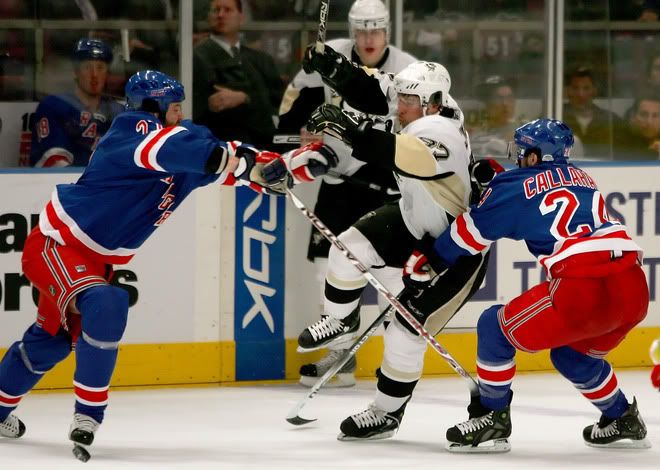 Gonch gave the puck away

again

this time to Jagr, but MAF stayed in the zone and blanked Double J. Then Rob Scuderi gave the puck to Marty Straka a little later which led to Marian Hossa taking a holding penalty. Prior to the start of the power play, Versus had a solid piece about the Penguins' equipment manager Dana Heinze. His efforts to make the visitors' locker rooms feel like home locker rooms are legendary. He takes several Pens signs and a big round rug with the Skating Penguin in the center. The effort is amazing, and we were told it was something he did when he was equipment manager for the Johnstown Chiefs. What a team player! On the ensuing Rangers power play, Jagr set up Straka for a wicked shot, but our young goalie made the stunning save. Jagr then fired another shot that was foiled by his own teammate, Chris Drury. The Rangers didn't score on their power play.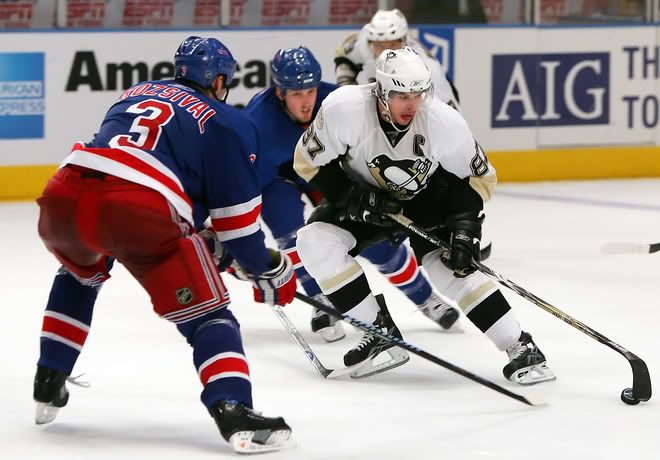 The Saint, Hossa, and Pascal Dupuis had an unreal shift. Hossa tried for a wraparound, but Lundqvist used his leg pad to stop him. Sid rushed in and was just about to take a shot on the rebound when he was hauled down by Brendan Shanahan. No call was made, and Sid was less than pleased about it. (He slammed his stick into the boards as he sat down on the bench.) The Pens got another power play opportunity when Marc Staal was called for slashing Tyler Kennedy, but they didn't capitalize on their advantage.

Jordan Staal made a hand pass in the Rangers' zone; as a result, no Pen wanted anything to do with the puck so that the faceoff wouldn't be moved down. Of course the Rangers wanted the faceoff moved, so they wouldn't touch the puck either. It lay motionless in the far corner for about 6 seconds. It quickly became clear that the refs weren't going to blow their whistles, so Drury passed the puck out to a Ranger, who then attempted unsuccessfully to clear. The Pens got a few more chances out of the deal, but did not score. During an interview with Versus reporter Christine Simpson, Rags coach Tom Renney attempted to minimize the amount of trouble his team is in and referred to the Pens as "a pretty good team." What?! That's like saying Cristal is "a decent bubbly." Anyhoo, Dubinsky put a big hit on Sid, Hossa got a big chance that Straka blocked, and Geno had a literally last second chance that Lundqvist blocked until the period ended with both teams scoreless.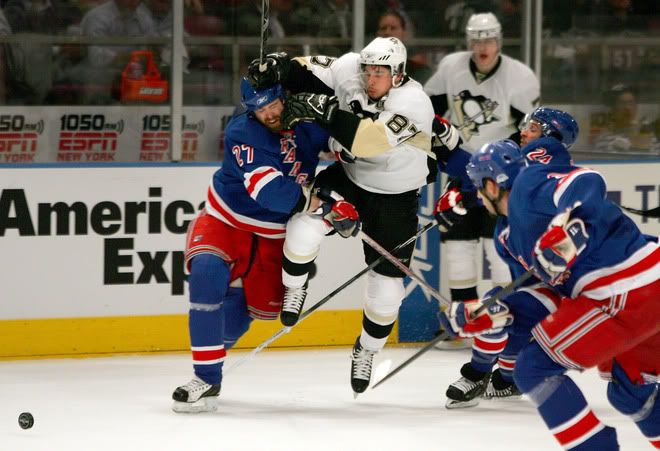 Early in the second period, a loooooong lead pass connected with Straka for a breakaway, but he inexplicably put the on the brakes and passed the puck to Jags, who was the man trailing. The pass didn't connect, as the puck went off his stick. Hossa later made a sweet pass up ice to Dupuis for a 2-on-1 with Geno. Dupuis attracted the lone Ranger (☚ heh heh heh), which left Geno open against Lundqvist. Unfortunately, Geno just couldn't get the puck high enough. Drury later fired a shot that went literally just inches wide of the goal after Shanahan threw the puck out front.

Sid split the D, but he was backchecked and prevented from taking a shot. He then turned the puck over to Ryan Callahan, who was backchecked nicely by Rob Scuderi. Sid then again turned the puck over this time to Shanahan, who didn't score but drew a holding penalty on Kris Letang. Bugsy and Gronk had a shorthanded 2-on-1, but Bugsy lost the puck so no shot was fired. The Rangers didn't score on their advantage.

After Tyler Kennedy hit the post on a wraparound attempt, the Rangers got the puck and went towards MAF. Dubinsky made a really nice cross ice pass to JJ, who fired a shot. The puck went into the net behind Flower just as Brooks Orpik came in diagonally. He got an awkward piece of JJ, who went down in a heap as the goal light came on. The trainers came out, and thankfully, Jags was okay. [Pens 0, Rangers 1] The refs reviewed the play but issued no penalty, as none was warranted. Jarrko Ruutu got a penalty for holding. On the Rangers' power play, Bugsy had a sweet shorthanded breakaway, but Lundqvist stopped him cold. Neither team scored while Ruutu was in the box.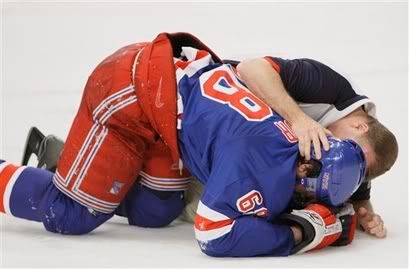 It all started going downhill when Sidney gloved the puck down to himself and made a sweet lead pass to Geno for the breakaway. Dan Girardi found himself behind the Hart and Pearson award nominee without a stick (it had just broken seconds prior). Girardi thought it'd be a great idea to shove Geno from behind as Geno fired a shot. On the replay, at least as I saw it, the puck went in a split second before Geno crashed into the net (and Lundqvist), dislodging it. But the folks at the War Room in Toronto saw it differently and it was ruled a NO GOAL. Geno was given a penalty shot instead. I don't know why he thought this would work on a goalie that was seeing beach balls, but he sauntered in rather nonchalantly, put on the brakes as he got closer, and simply popped a shot right into Lundqvist's glove hand. I don't know, maybe Geno thought that the change of pace would throw Lundqvist off. Of course, it did not.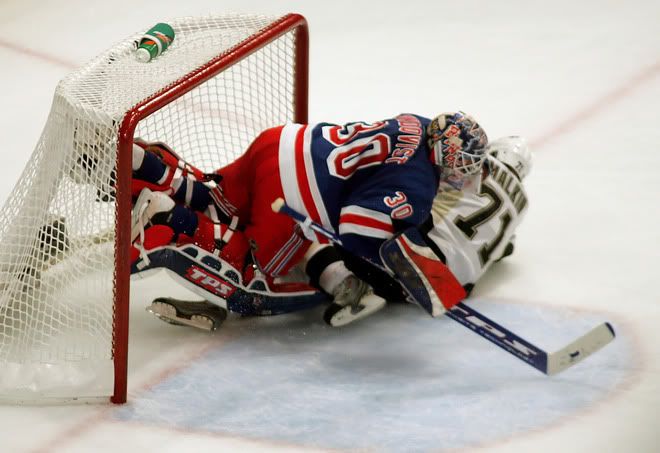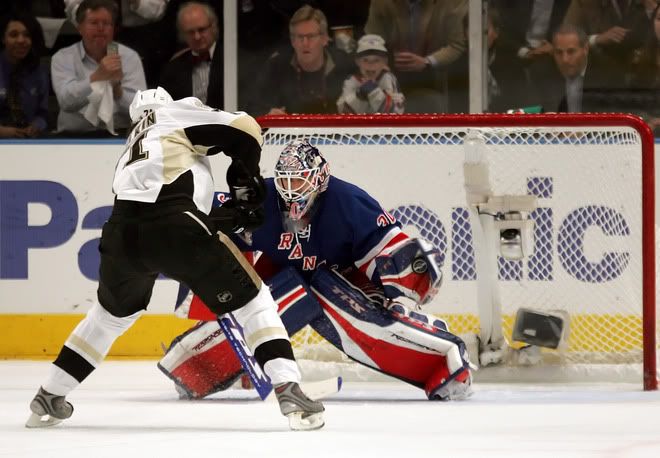 Geno proves to us that he is in fact human by shooting right to the glove.


With :45.7 seconds left in the second period, Petr Sykora took a hooking penalty. The Rangers didn't score on this abbreviated power play...

...but they did score on the remainder of Syko's penalty at the beginning of the third. Giant Hal Gill interrupted a game of catch between JJ and Straka behind the cage. The puck literally trickled out in front. No Pen cleared it, MAF went down a split second too early, and Dubinsky capitalized. [Pens 0, Rangers 2]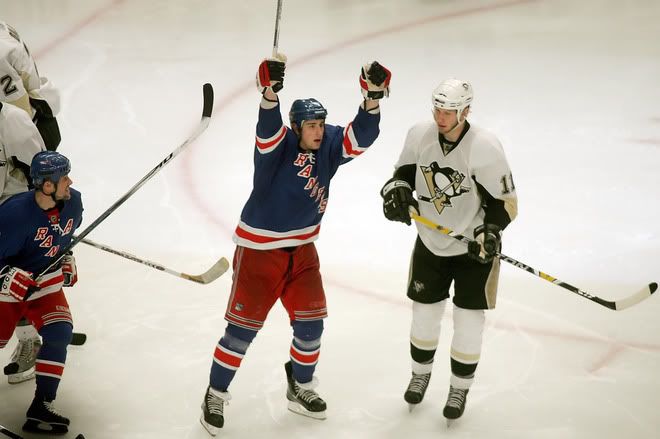 Gronk turned the puck over, which led to a Rangers chance that MAF denied. We're told that someone standing near a busy road was dressed up like a Penguin with a broom and a sign that read, "Honk if you think the Penguins will sweep the Rangers." (Sorry, I didn't hear if this person was in Pittsburgh or in New York.) Colton Orr tried to freight train the Saint, but Sid saw him coming and ducked. A shot fired by Syko hit the effing crossbar, then Gronk, who was right there in front, pushed the rebound right through the blue paint. Poor Jordan tossed his head back in frustration.

Actors Tim Robbins and Matt Dillon were shown in their seats taking in the game just before Lundqvist made another handful of UNREAL saves. After Geno turned the puck over at the wall, Gonch was called for crosschecking. Ruutu made a great save on Paul Mara with his body to keep the Rangers from scoring on their advantage.

Later, Girardi freight trained Hossa at center ice. Our captain took exception to Girardi's actions and rushed in to stand up for his teammate. Geno was hot on Sid's trail. Both men went after Girardi and a melee erupted between the teams. The crowd exploded in a chant of "CROSBY SUCKS!!!" Once the refs regained control, we learned that the Saint, Geno, and Girardi all had to serve 2 minutes for roughing. The crowd's chant changed briefly to "LET'S go RAN-gers!!!" before going back to the "CROSBY SUCKS!!!" chant. Sid was booed heavily as his penalty was announced. The Rangers did not score on their advantage.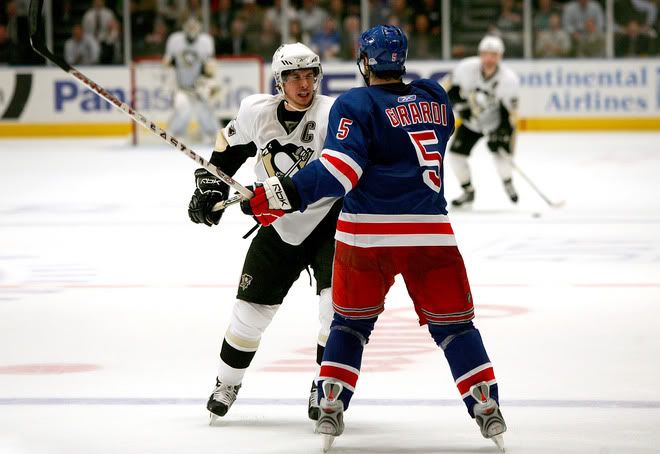 Look at how pissed the Saint is!!!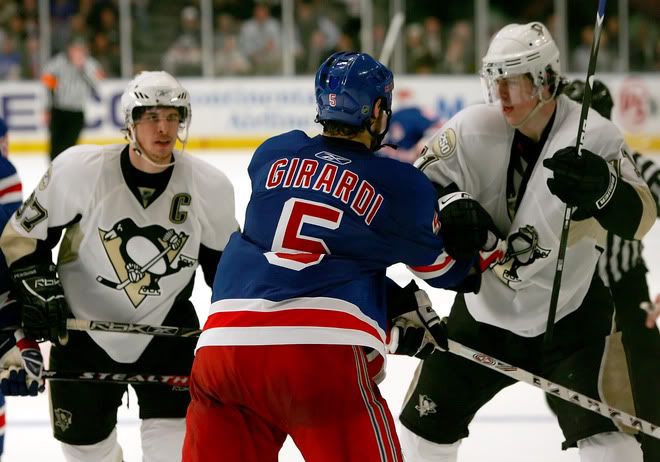 Just 18 seconds after the 5-on-5 resumed, Scott Gomez was busted for high sticking Orpik. As Sid took his position for the faceoff, the crowd began a classy chant of "ASS-hole!!!" directed at our title man. The Pens didn't score on their advantage. With only 1:14 left in the game, Dupuis took a stupid high sticking penalty. That pretty much sealed the Pens' fate. Flower came out of the net with 38 seconds left, and a few seconds later, JJ scored into the empty net. [Pens 0, Rangers 3]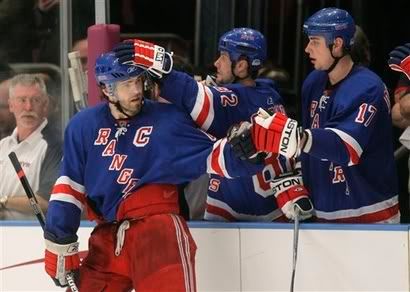 The Pens were making a few last ditch efforts to foil Lundqvist's shutout. While trying to make something happen, Geno made a modified slewfoot move on Mara, who fell backwards onto the ice. As the play was whistled down, Mara went after Geno, Gonch went after Rozsival, and all hell broke loose. When the dust settled, Geno was given a 10-minute misconduct penalty, Mara was given 2 for roughing and a 10-minute misconduct penalty, and Sid was shown laughing in that "What else can I do but laugh?" kind of way. More penalties came as the clock hit :00 following a scuffle behind Lundqvist. Ruutu was given 2 for roughing and a 10-minute misconduct penalty.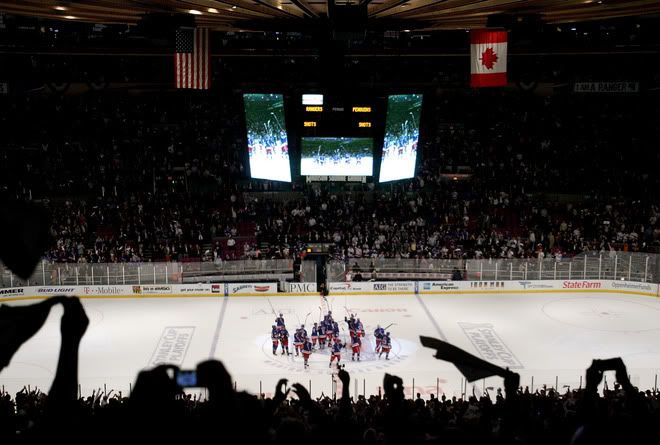 Thankfully, the boys have two days off to rest up. They meet again for what we all hope is the last time in Pittsburgh on Sunday at 2:00pm Eastern.



GO PENS!!!!!!!!!!!!!!