WOOOOOOOOOOOOO!!!!!!!!!!!!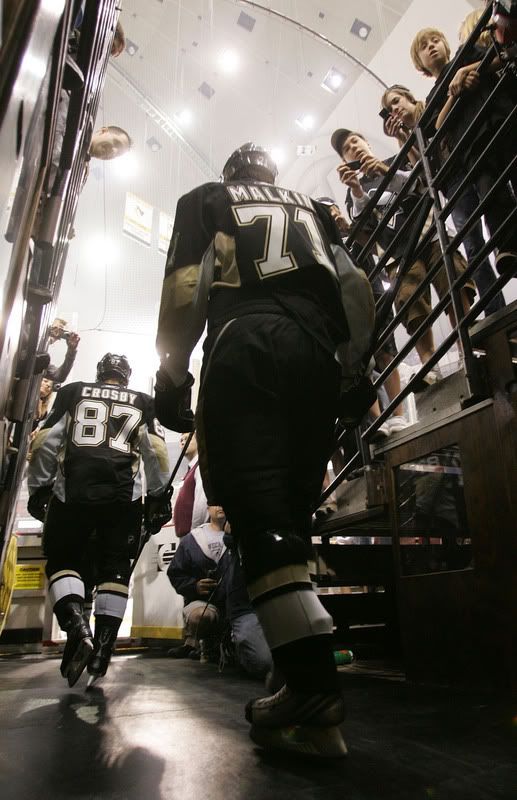 Na-na-na-na; na-na-na-na; hey hey hey; GOODBYE!!!



⇑ That could be said to both the Rangers and to Marian Hossa's "chokes-in-the-playoffs" reputation. With 2 goals (including the game winner in OT!), Hossa has effectively shaken that monkey off his back. But now you have to brace yourself: We're going to Round 3 against the Flyers! If you think this was a gritty battle, just wait until Round 3 starts. You definitely ain't seen nuttin' yet! It's going to be a hard hitting, emotional stop on the Pens' way to the Stanley Cup finals.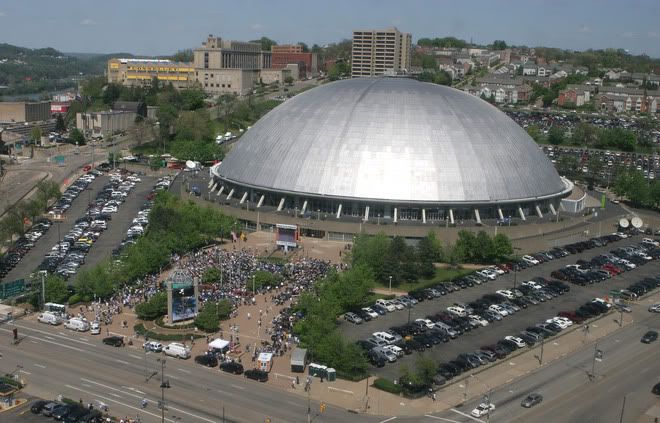 LOOK AT THAT LAWN ATTENDANCE!!!


Back to today's game now. Marc-Andre Fleury was tested as soon as the puck dropped. He made a series of big saves early in the game (one in particular came after the Saint turned the puck over to Marty Straka). The so-called Steel City Line went absolutely nuts a few minutes later. They applied more pressure than an Impact-5 car crusher, but were unable to squeak the puck past Henrik Lundqvist. Jarrko Ruutu made his presence known to the Rangers with a big hit on Michal Rozsival and again a little later with some "friendly banter" directed at Jaromir Jagr: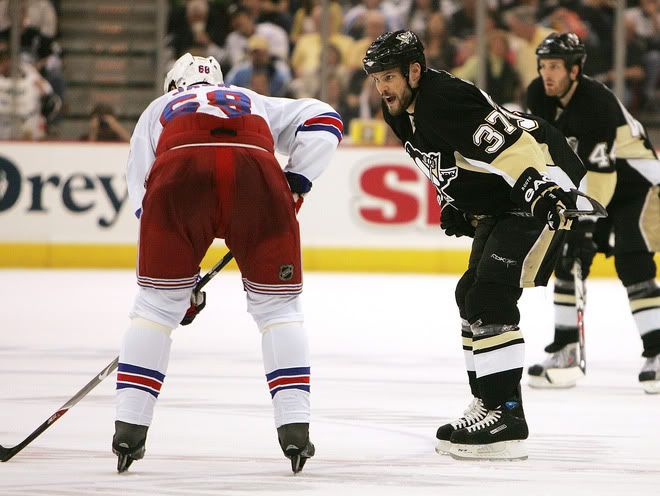 Sidney, Hossa, Pascal Dupuis, and Sergei Gonchar dominated in the offensive zone for a series of shots that Lundqvist was able to stop. Jags got the first penalty of the day after he hooked Jordan Staal. On the advantage, Ryan Malone made a beautiful move to get out front that Lundqvist had to dive out to stop. The Pens didn't score on their advantage. The Scary Gary Roberts that we all know and love was back. He was making hit after hit after hit (at one point he made 3 hits in one shift!). Ruutu took a dumb penalty for holding JJ, but Evgeni Malkin and Hossa made the Rangers forget they had the power play because the two men dominated puck possession in the Rangers' zone and fired shots at Lundqvist with several seconds left on Ruutu's penalty. The Rangers didn't score on their advantage.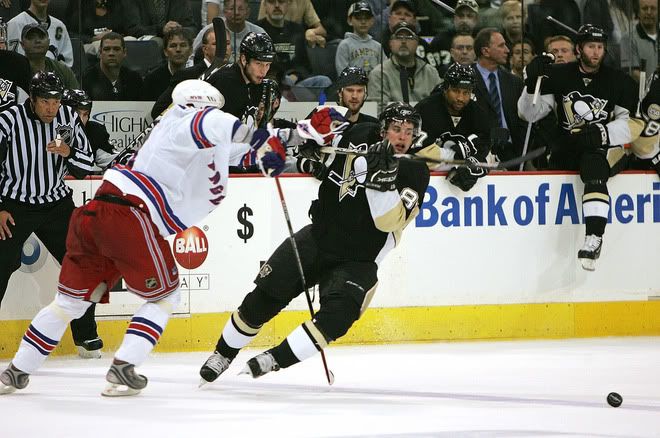 Steelers quarterback Ben Roethlisberger was on hand at the Mellon Arena to cheer for his city-mates (← Hmm... is that a word?). All day, Geno was dominating puck possession with moves that can't be described. He muscled through the Rangers, but he wasn't able to score. He then ended up taking a dumb penalty of his own after hitting JJ from behind when the puck was no where in sight. He was of course called for interference. Luckily for us, the Rangers didn't score on their power play. With less than 30 seconds left in the period, Nigel Dawes had a glorious chance in front of Flower, but he lobbed the puck too wide - believe me, if that had been any other Ranger with that puck, especially JJ, Straka, Chris Drury, or Scott Gomez, we'd be talking about a 0-1 game right now. Nevertheless, the period ended with both teams scoreless.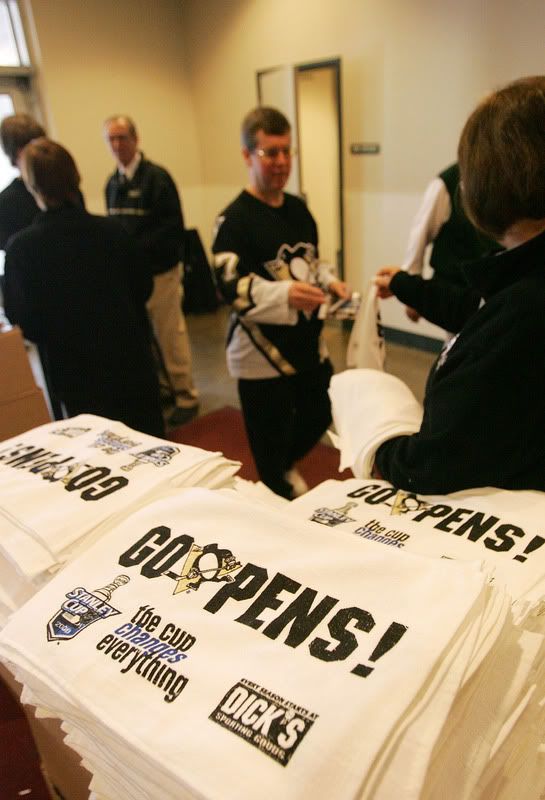 This is a really good look at the towels being given out at the playoff games this year.


The second period started with the NBC reporters talking about how Coach Michel Therrien said his focus for this period was to reduce the number of turnovers. Right away, Sid fed the puck to Hossa, who was alone in front. The puck jumped up and over Hossa's stick, and he fell trying to gain control of it, so he was unable to fire a shot. Pressure again was applied by the Steel City Line when Bugsy was looking behind himself and his stick came up and into Drury's face. The blade lodged between Drury's protective shield and his face, cutting him on the left cheek. Drury was bleeding rather profusely. The Pens were given a seriously early Christmas present because

none of the refs saw it happen, so no penalty was called

. Talk about dodging a four minute bullet!!! Then, if you're a Rangers fan, things just got worse for you when on the very next play, JJ was called for hooking Bugsy.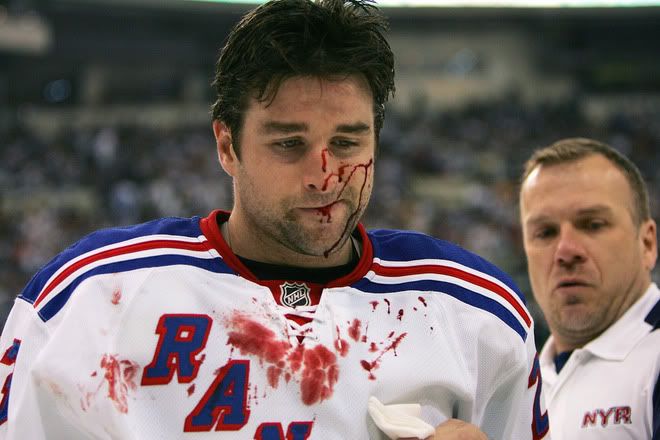 The "Jaws" theme played to start the power play. It's a tradition from the early 1990s. It may have been brought back for this post-season because of an interview with Bugsy in Faceoff Magazine from mid-March:

I remember sitting there for the Stanley Cup playoffs in the early 1990s. I was at all of those games. [snoop: Bugsy's dad, Greg, was formerly the Pens' head scout.] I remember the "Jaws" music playing for the power play. I wish they would play the "Jaws" music when I'm on the power play now.

Click the Play button to hear the short clip of the theme:


It didn't help the power play this time. The Rangers had a great shorthanded 3-on-2 chance that didn't connect, and the Pens could score on their advantage.

The Rangers got an extended power play when a delayed penalty was called on Big Georges Laraque for slashing, but it was all for naught. Adam Hall played like a man possessed - he was getting the puck out seemingly by sheer force of will at times. The Rangers didn't score on this power play. The Pens got another power play chance of their own when Geno was tripped up by Rozsival as he was about to go on a breakaway. With the advantage, Sidney nearly got a breakaway, but Lundqvist came out to challenge and poke checked him. Hossa made an magnificent diving play to keep the puck in. Sid and Geno went nuts for the next few seconds. Then a tic (Sid) tac (Bugsy) toe (Hossa) play resulted in Hossa's first goal of the night. [Pens 1, Rangers 0]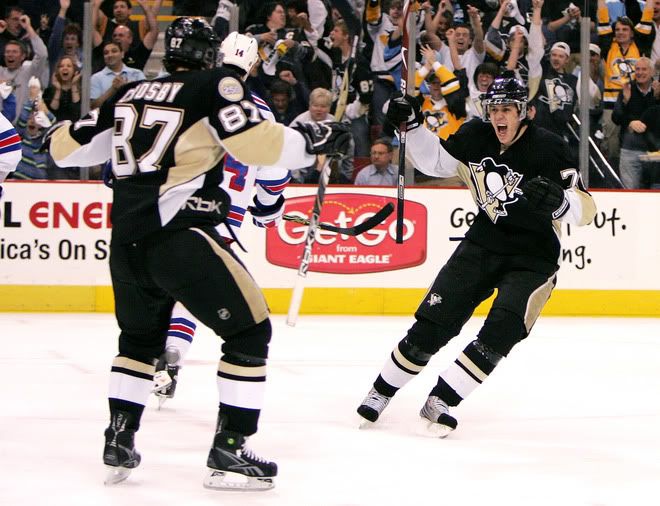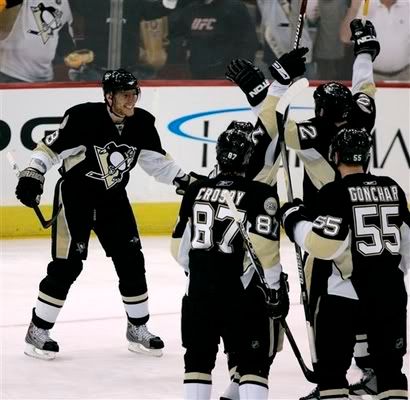 Again, things went from bad to worse for the Rangers when, literally seconds after returning to the ice from his last penalty, Rozsival went right back to the box, this time for hooking Tyler Kennedy. The Pens' power play was a flurry (haha) of action. The momentum in both the team and the fans exploded. Gronk threw the puck in front to GR. Before the thought "WOOO! Here comes goal number 2!" could even be finished in our heads, Lundqvist stunned us all by robbing GR, not once, but twice. He blocked the initial shot then covered the rebound by sitting on it. The Pens didn't score on their advantage. Dupuis came out and hit an effing post. Drury got away with holding Sid, but considering his freshly stitched cheek, there will be no complaints here about that.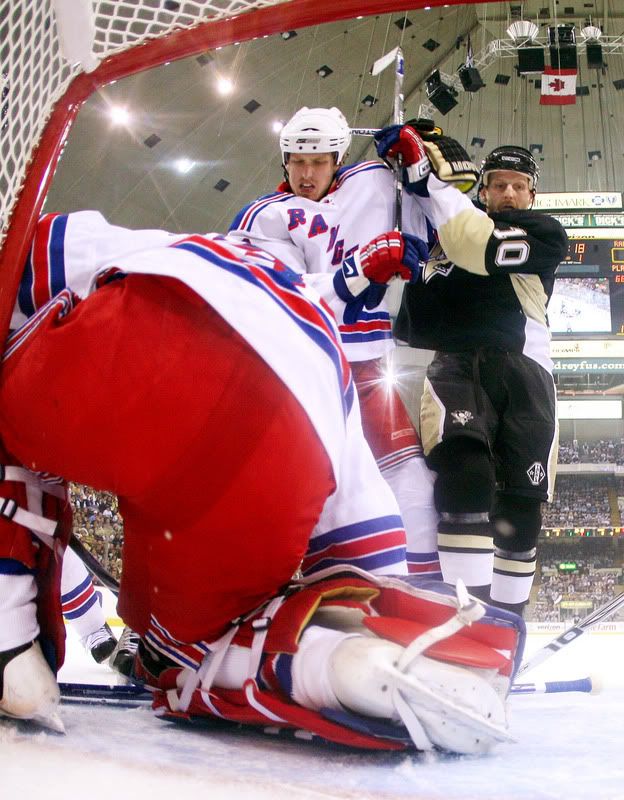 Then, just Sid's first NHL coach Eddie Olczyk was telling us that Geno spent an incredible 1:54 out on the last power play, Geno settled a rolling puck and fired a backhander for a goal. As the fans went bonkers, Edzo had to shout (even then he was barely audible), "He must have an oxygen tank underneath his equipment!" [Pens 2, Rangers 0]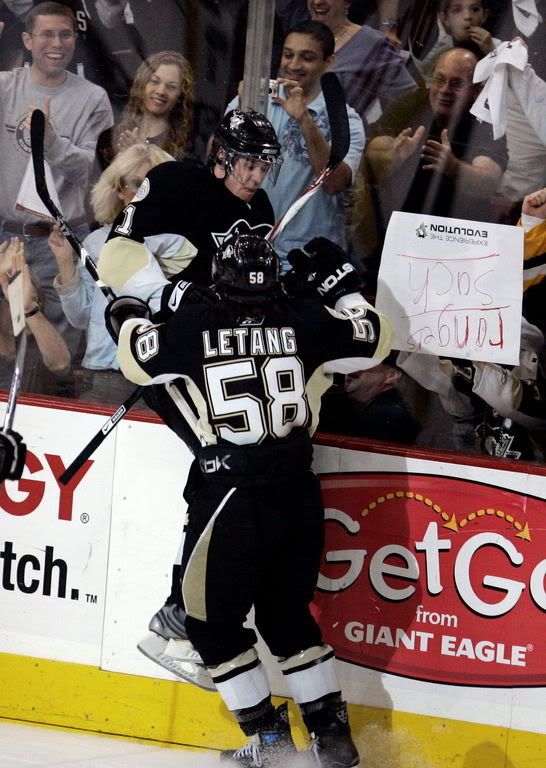 Before the next play, JJ and Ruutu had words. A ref came over and chastised - wait for it - JAGR! (← Not who you were expecting, eh?) JJ took that frustration and drew a holding penalty on Gronk. Geno got an outstanding shorthanded breakaway chance, but his shot went wide. The Rangers didn't score on their advantage. The Pens' bench later got pretty upset when the Rangers got away with having too many men on the ice. Seconds later, there was a stoppage in play that we're told was the result of a penalty. It turns out that it was an errant whistle, but on the replay, it's clear that Rozsival got a gift of his own when he isn't called for slashing.


(Click for a supersized image of the captains.)


The refs did see Rozsival do something just a bit later. GR nearly had a chance in front, but Rozsival hooked him and took him down before he could fire a shot. Edzo said that Roberts "sold that call." Whatev. On the ensuing power play, Gonch hit the effing crossbar with a big shot from the point. The Pens didn't score on their advantage. As Rozsival emerged from the box, he and Straka and Jags went for an odd man rush that Geno foiled with some inspired backchecking on JJ. The second period ended with the Pens ahead by a comfortable 2 goals.






Therrien > Olczyk


But there's a reason that they say the 2 goal lead is the worst lead in hockey. Just over two minutes into the 3rd period, Lauri Korpikoski scored after Ryan Whitney didn't step up on him while Korpikoski and Fredrik Sjostrom were in a 2-on-1. [Pens 2, Rangers 1] We didn't have enough time to even think "It'll be all right. We're still in the lead." when Dawes came in and scored the tying goal just over a minute later. [Pens 2, Rangers 2]

Desperation took over both teams, though for completely different reasons. The Pens just wanted to finish the series, while the Rangers wanted to live to play another day. With just 1:18 left in the tied game, Drury returned the high-sticking favor to Bugsy but with one difference - Drury was caught red handed. And since the bridge of Bugsy's nose was bleeding, Drury was given a double minor - a penalty that carried over to overtime.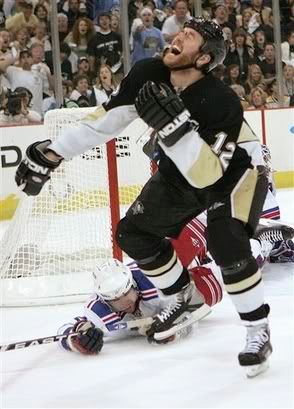 Even though the Pens had 2:41 left to work on their power play, they were unable to get one past Lundqvist. They didn't score on their advantage. Kennedy fired a shot that hit the effing post. Sid was taken down. There was a frenzy on the ice. Then, just over 7 minutes into overtime, another tic (Sid) tac (Dupuis) toe (Hossa) goal sealed the Rangers' fate. [Pens 3, Rangers 2] The Pens mobbed Hossa on the ice in jubilation; the fans erupted in applause; the Rangers consoled their star goalie. I'll leave you with some awesome shots of the win: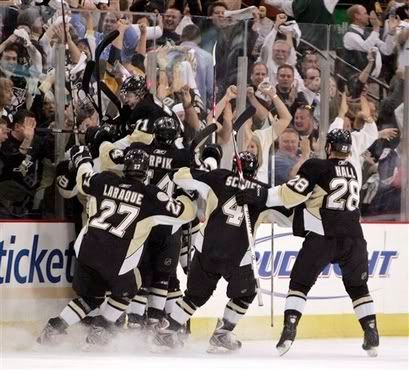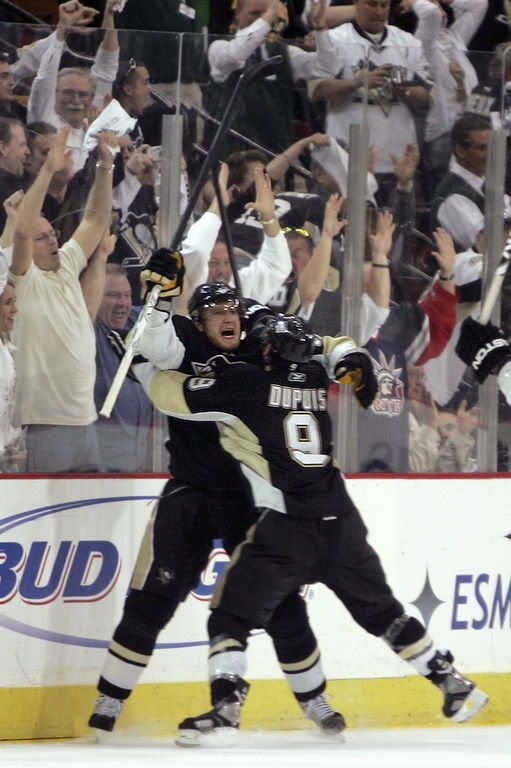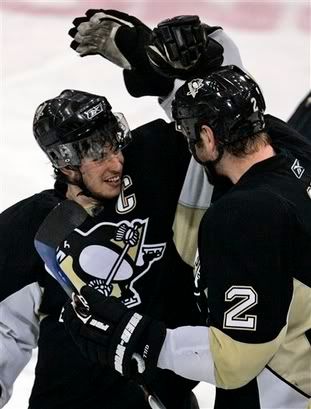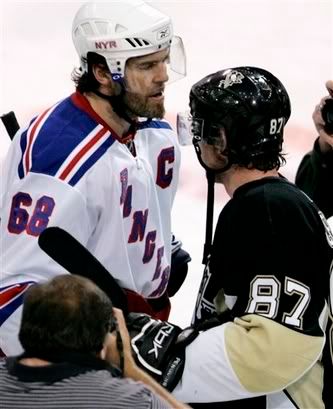 Here are two awesome shots of the Staal brothers (what a family!!!):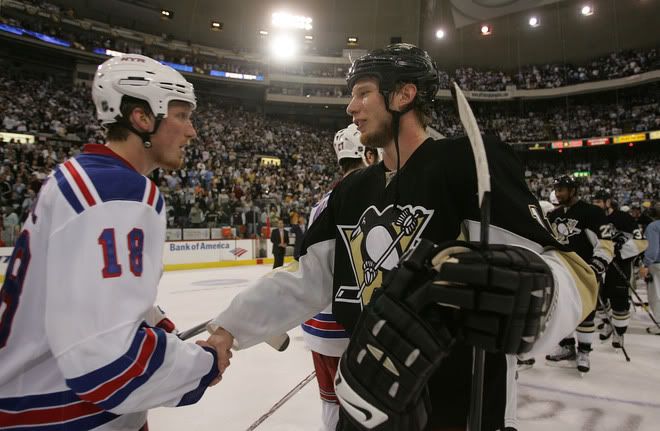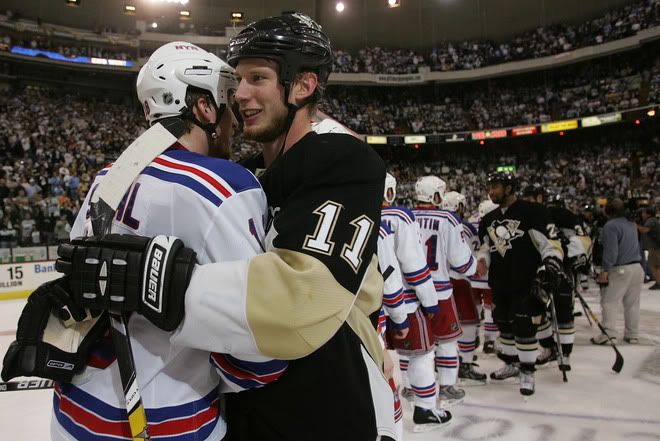 Bring on the Flyers!!!

AND MAKE SURE YOU STOP BACK HERE TOMORROW:

I've got something very special for you... Until then,



GO PENS!!!!!!!!!!!!!!!!!!!!